Trending:
What meat to make pastrami for Easter: tastier than baked pork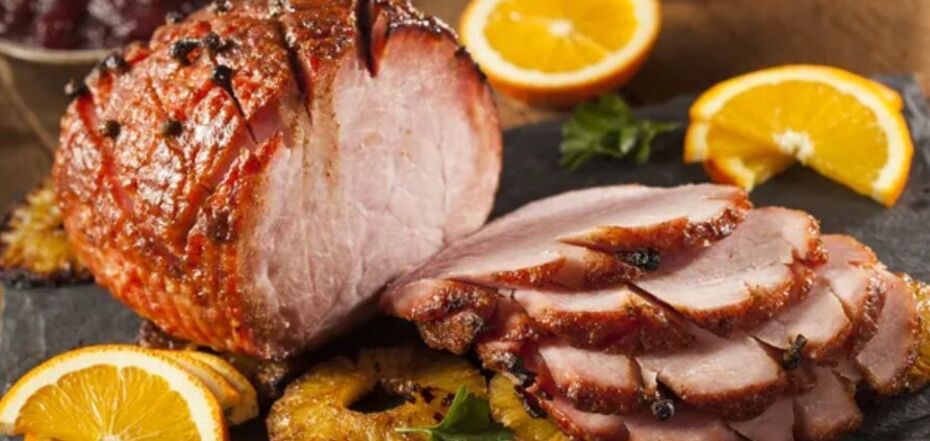 Delicious spiced pastrami
Pastrami is meat baked in a lot of spices with garlic. The texture is very tender and juicy, the taste is spicy. The peculiarity of cooking such meat is that it must be soaked in a salt solution before baking. This helps to prevent the fibers from drying out and falling apart. Turkey is best suited for such a technique.
The idea for turkey pastrami is published on the Instagram page of food blogger Daria with the nickname recepti_dariko. A delicious crust of spices forms on top.
Ingredients:
salt - 4 tbsp.
garlic 2-3 cloves
mustard - 1 tbsp.
oil - 3 tbsp.
basil - 2 tsp.
coriander - 2 tsp.
Khmeli suneli - 1 tsp.
paprika - 2 tsp.
dry adjika - 1 tsp.
Method of preparation:
1. You need to choose an even fillet so that it cooks evenly. Do not fit too big a piece or, on the contrary, too thin. Approximate weight of 1 kg.
2. Make a rupa - a strong salt solution: combine salt with cold water (1-1.5 liters), mix and put the meat in it. Make a few punctures with a knife, so that the meat gets better salted. Put it in the fridge for 4-5 hours.
3. Mix all the spices, mustard and vegetable oil. The spices can be varied to taste.
4. Take the meat out of the brine, dry it with paper towel, scrape it with chopped garlic cloves and rub it with spices on all sides. Place on a baking tray with foil.
5. Bake in a well preheated oven (250-270 degrees) for exactly 15 minutes. Then turn off the heat and leave to cool in the oven without opening the door (at least 4 hours). You can leave it for the night. The main thing - do not open the door.
Also on OBOZREVATEL you can read the recipes: