Trending:
What dessert to make for Easter other than Easter cake: a very popular dish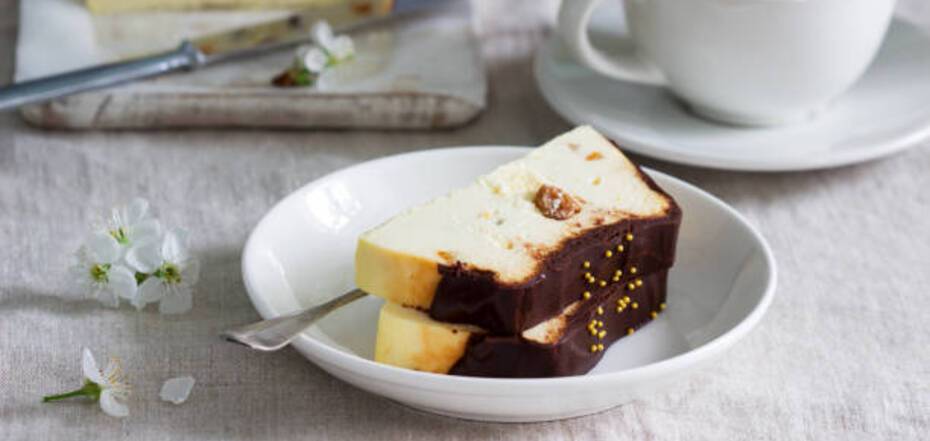 Lviv cheesecake recipe
Fresh and fragrant Easter cake is the main attribute of Easter. But in addition to this pastry for the holiday, you can prepare other desserts. These are often a variety of buns, muffins and cheesecakes.
The idea for a juicy cheesecake from Lviv is posted on the Instagram page of food blogger Victoria with the nickname viktoria__cooking.
Ingredients (per 25x12x7.5 mold):
600 g 9% cheese (no less)
90 g of butter 82,5% + 50 g to grease the mold
100 g sugar
20 g corn starch
zest of 1 orange or 1 lemon
4 eggs
30 g sour cream 20%
2 g vanillin
60 g raisins
1 tbsp flour
80 g milk chocolate
20g sunflower oil
Method of preparation:
1. Pour hot water over the raisins and leave them for 15 minutes.
2. Dry with a paper towel, add flour and mix.
3. Rub the cheese through a sieve (or with a blender) and combine with the sugar, cornstarch and zest of an orange.
4. Add the soft butter and stir to combine.
5. One egg at a time, mixing very well each time.
6. Add the sour cream, vanilla and raisins and stir well again.
7. Grease the mold very well with butter and place the cheesecake.
8. Bake at 180 degrees for 45-50 minutes.
9. Cool first in the oven with the door slightly open and then in the refrigerator for at least 2 more hours (otherwise it may fall apart).
10. Melt the chocolate in a steam bath or in the microwave, add the butter and stir.
11. Pour over the cheesecake and leave in the refrigerator until set overnight.
Also on OBOZREVATEL you can read the recipes: