Trending:
Unusual pâté with berry jelly: how to combine delicious products in a dish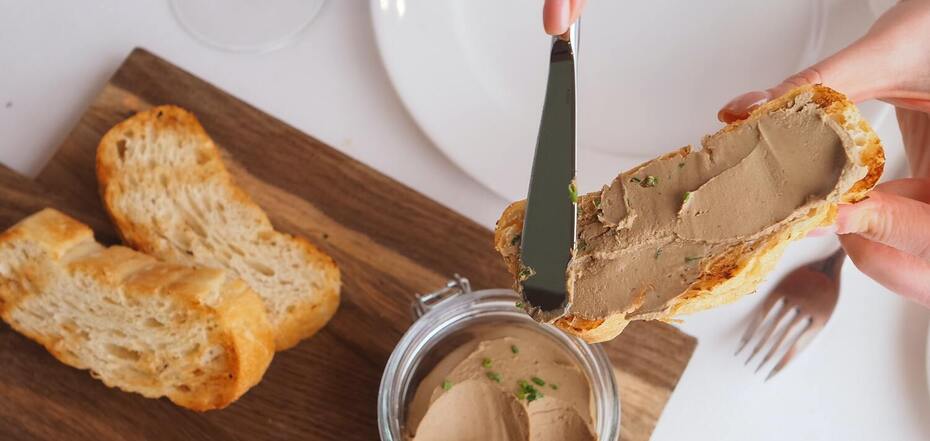 Unusual liver pâté
Liver is a unique product, which is perfectly combined not only with onions and butter, but also with berries. They should be added to the pate in the form of jelly. The taste will be extremely fresh, delicate and slightly sweet. In addition, on toast such a dish looks very attractive..
The idea of making jelly liver pâté is published on the page of food blogger Valeria Veligura(yummy.lera) on Instagram.
Ingredients for pâté:
2 onions.
1 carrot
500g chicken liver
20g butter
salt and black pepper
200 ml of 10-15% cream
Ingredients for the berry jelly:
5 g gelatin
25 ml water
200 g of any berries (blackcurrants and cranberries are best)
100 ml water
15g sugar
Method for making pâté:
1. Onions fry in vegetable oil until golden, add grated carrots and fry a few more minutes.
2 2 Separately, until tender, fry washed liver (10 minutes).
3. At the end add salt, pepper, butter and stir.
4. Turn the onions and carrots, pour the cream, stir and stew under cover for 5 minutes.
5. Beat with a blender until homogeneous and put into the molds.
How to make berry jelly.
1. Pour the gelatin with cool water for 15 minutes.
2. Bring fresh or thawed berries with water and sugar to a boil and cook for a few minutes.
3. Rub through a sieve, add the melted gelatin and stir.
4. Cool a little and pour on top of the pâté.
5. Put in the refrigerator for a few hours.
Also on OBOZREVATEL you can read the recipes: