Trending:
Spectacular cottage cheese Easter cake with strawberries: no need to bake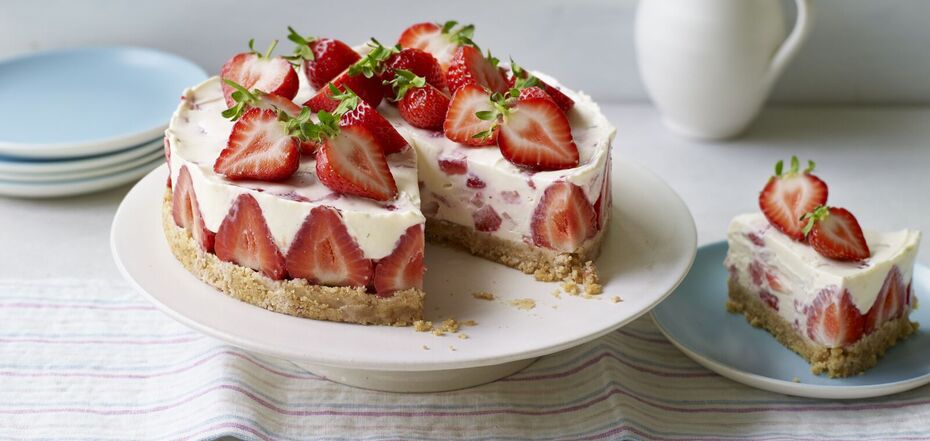 Unusual Easter cake with strawberries
We are accustomed to the fact that for the easter cake you have to knead the dough for a long time, and then bake it. And it often happens that the mass does not rise, comes out clogged. So if you don't want to take care of all that, you can make a simple and very effective curd pastry with strawberries - you just need to put it in the fridge for a few hours.
The idea for making a cottage cheese easter cake with strawberries is published on the Instagram page of food blogger Valeria Veligura(yummy.lera).
Ingredients (per mold that is 12 cm in diameter, 9 cm high):
For the base:
For the strawberry layer:
150 g strawberries (you can use any fresh or defrosted berries)
50 g sugar
1 tsp. lemon juice
2 g of agar-agar.
For the filling:
10g gelatin
130 ml of cream 33%
500 g sweet or sour milk cottage cheese
150 g powdered sugar
50 г butter
Method of preparation:
1. For the base, melt the chocolate in the microwave or in a water bath. Pour into a silicone mold and distribute evenly (you can use a brush). Place in the refrigerator until solidified.
2. For the strawberry layer, dice the strawberries, add the other ingredients and bring to the boil. Cook for 2-3 minutes until thickened and let cool.
3. For the filling, add the gelatin to the cream, stir and leave for 20 minutes. After that melt it in the microwave or on the stove.
4. Add powdered sugar, soft butter, melted gelatin and cream to the cheese and beat with a blender until smooth.
5. In the form with the chocolate base, place the curd mass and the strawberry layer in layers. Put in the fridge for 3-4 hours, or better overnight.
Also on OBOZREVATEL you can read the recipes: