Trending:
Snickers Easter cake : No need to bake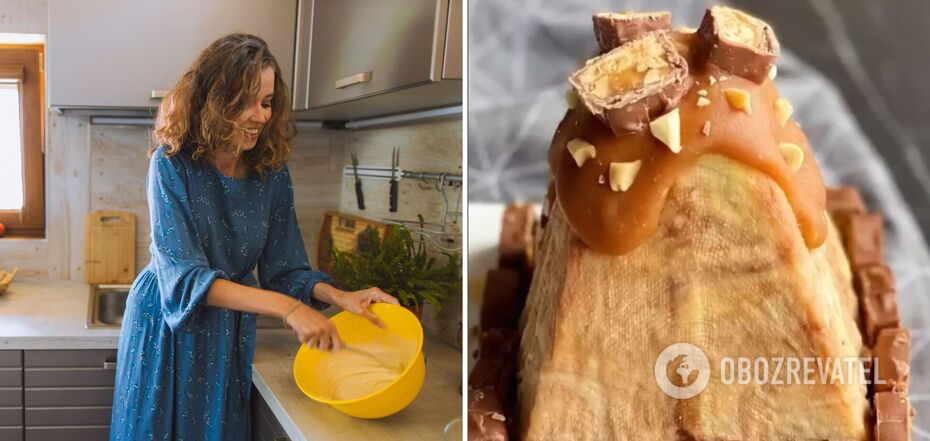 Snickers curd Easter cake recipe
A delicious Easter cake doesn't have to be yeast. If you really want to surprise your family with a spectacular Easter dessert, make a Snickers Easter cake. It is based on sour milk cheese, caramel and nuts. The mass freezes well in the refrigerator, so you don't have to bake anything.
The idea for the Snickers cheese Easter cake is posted on the Instagram page of food blogger Yulia Petrova(_yuliiali_).
Ingredients for caramel:
sugar - 110 g
butter - 50 g
salt - 1/3 tsp.
hot cream 33% - 80 ml
roasted peanuts - 70 grams
Ingredients for the cream:
eggs - 2 pcs.
sugar - 70 g
33% hot cream - 100 ml
For the chocolate filling:
milk chocolate - 60 g
33% cream - 30 ml
Ingredients for the base:
sour milk cottage cheese (5-9%) - 500 g
butter - 60 gr
Method of preparation:
1. Caramel: over medium heat in a saucepan with a thick bottom, melt sugar + butter, salt and stir quickly. Pour hot cream, stir and remove from the heat, leave 2-3 tbsp. for decoration. Add peanuts to the rest and stir.
2. Cream: beat eggs with sugar. Continuing to whip, pour hot cream. Place on medium heat and stirring, cook until thickened, remove from the fire and allow to cool.
3. The chocolate filling: pour hot cream over the chocolate and stir into a homogeneous mass.
4. We assemble the Easter cake: add the butter and cream to the cheese, and beat with a blender until homogeneous. Add the caramel and peanuts, chocolate filling and stir with a spatula several times to make a good pattern.
5. Put the form on a plate (the liquid will drain there) and cover it with a double layer of damp gauze. Put our mass, tamp it tightly and wrap the edges of the gauze.
6. Cover the top with a plate, put a weight and put it in the fridge overnight. In the morning carefully invert the form on a plate, remove the form, gauze and decorate with caramel.
Also on OBOZREVATEL you can read the recipes: