Trending:
Paska bread in a new way: how to make spectacular kraffins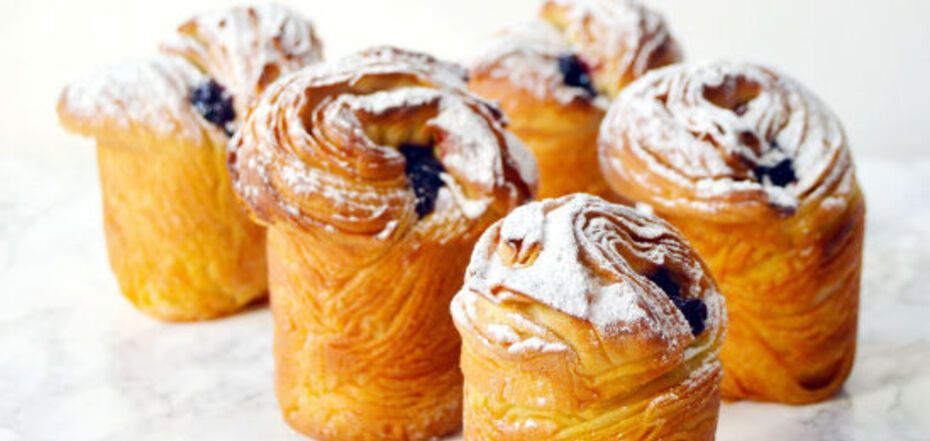 Classic kraffins recipe
If you want to delight your family with spectacular pastries for Easter, making kraffins is an ideal option. Such a pastry cake has an unusual twisted shape, and there are a lot of delicious dried fruits inside. The baked dough is so fluffy that it is easy to separate by hand.
The idea for the Easter kraffin pastry was published on the Instagram page of food blogger Marianna Rizhmal (itchen_ladyboss).
Ingredients:
high-grade wheat flour - 320 g
milk - 120 ml
sugar - 100 g
butter - 70 g
egg - 1+ 2 yolks
yeast - 25 g
Ingredients for the greasing:
butter - 100 g
dried fruit - 150 g (raisins, cranberries, candied fruits)
Method of preparation:
1. Pour warm milk into a bowl, add yeast, 2 tbsp of sugar and 3 tbsp of flour of the total amount. Cover and leave in a warm place for half an hour.
2. Beat the egg and two yolks with sugar until lightened (with a mixer).
3. Mix the dough with the egg mass, add the flour in three steps. In the end, knead and add butter.
4. Knead the dough for 15 minutes until it stops sticking.
5. Leave in a warm place for 1.5 hours.
6. Then roll out into a thin layer and grease with butter or oil and sprinkle with dried fruit. Twist the kraffin.
7. Leave in the mold for another 30 minutes.
8. Bake at 180 degrees for 30 minutes (or check the oven).