Trending:
Moist and flavorful Alexandrian Easter cake: How to make an Easter pastry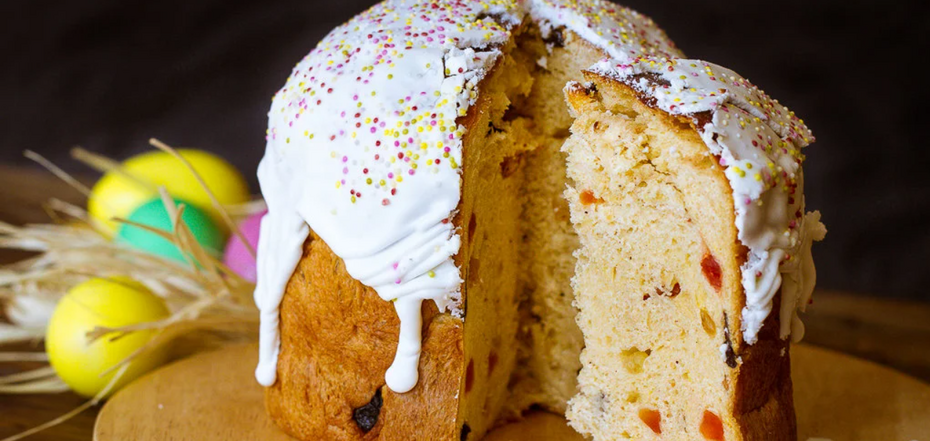 Alexander's Passover recipe
The Alexandria Passover is the perfect recipe for first-time Easter cake bakers who are worried that it might not succeed. Despite the fact that the dough is yeast, it is extremely easy and hassle-free to make. And the result is worth it - the finished easter cake is moderately moist, fragrant, and has a very attractive yellow color.
Foodblogger Maria Mikhalchenko on her YouTube channel(Smakolik.ua Maria Mikhalchenko) shared a recipe for a delicious Alexandrian passover.
Ingredients (for 6 pastries 13 cm in diameter):
Stuffing:
milk - 0,5 l
sugar - 0,5 kg
yolks - 3 pcs.
yeast - 75 g
250 g cold butter
Dough:
cognac - 1 tbsp.
salt - 0,5 tsp.
vanilla sugar - 1 p
1 lemon peel
dried fruit - 200 g
flour - 1,25 kg
Method of preparation:
1. To prepare the sourdough you need to mix sugar with warm milk, add yeast and stir until dissolved.
2. Add the eggs, egg yolks and cold butter. Beat with a mixer. Then cover the stew with clingfilm and leave for 8-12 hours.
3. Add cognac, vanilla and lemon zest to the prepared sourdough. Stir.
4. Add half of the flour and the dried fruit. Stir to combine. Then add the remaining flour and knead the dough until it becomes homogeneous. Leave under a cling film for 1-1.5 hours in a warm place.
5. 5. Divide the dough into equal portions, shape into loaves and place in molds. Allow the dough to proof in a warm place for 1.5 hours.
6. Grease the Easter cakes with beaten egg, put it in a preheated oven to 180 degrees. Immediately reduce the temperature and bake at 160 degrees for 50 minutes.
Also on OBOZREVATEL you can read the recipes: