Trending:
It's better to forget the bag with the bags: life hacks on how to store them conveniently at home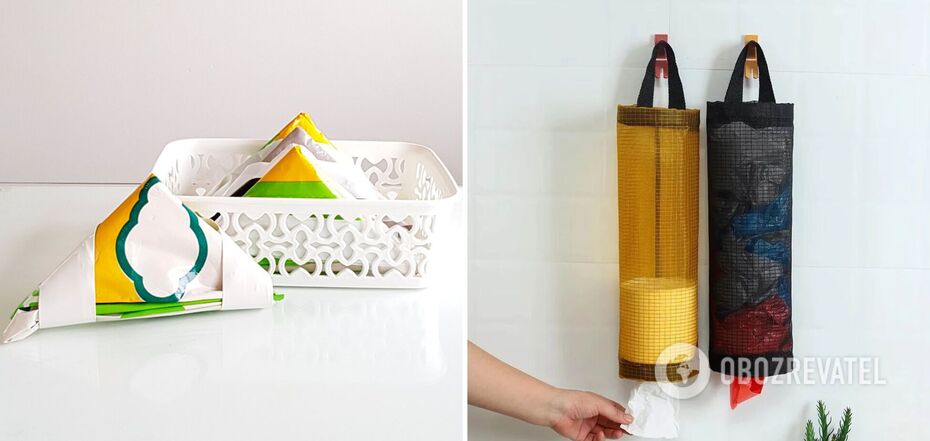 Packages can create real chaos at home, but it can also be defeated
Responsible use of plastic bags means that they will be used more than once. This means that they will have to be stored somewhere. The popularly nicknamed "bag with bags" method has become legendary, when small bags are put into a large bag. But it doesn't look very aesthetically pleasing and it's not very convenient to use.
Therefore, OBOZREVATEL has collected several options for home storage of packages that will not spoil the interior so much. And they will be convenient, because, in particular, they will not take up much space.
Wet wipes packaging
You can fold the sachets in such a way that they are easy to remove from the wet wipes. To do this, fold each sachet lengthways and start rolling it up so that the handle of the next one touches the bottom of the previous one. Now you can place the roll in the wet wipes package and take out the wipes one by one. At the same time, the tip of the next packet appears from the packaging. Very convenient.
Paper tissue packaging
You can also put the packs in a large dry wipes box. It has a wide opening at the top, which makes it easy to take them out and the storage space is quite compact. Similarly, you can use any other cardboard or plastic box of your choice.
Cardboard sleeve from paper towels
Paper towel packaging often comes with a cardboard sleeve inside - a tube that we throw away after use. In fact, you can fit several packages inside it and put it in, say, a drawer for household items. It will not create unnecessary chaos there.
Special holders
In addition, you can buy special holders for packages in hardware stores that can be mounted on the wall or on the door. You can place them inside the kitchen cabinet or in another inconspicuous place.
Previously OBOZREVATEL told how to sharpen a kitchen knife, if you do not have a special sharpener.
Subscribe to OBOZREVATEL's Telegram and Viber channels to keep up with the latest news.