Trending:
Italian Panettone Easter cake: how to make a puffy dough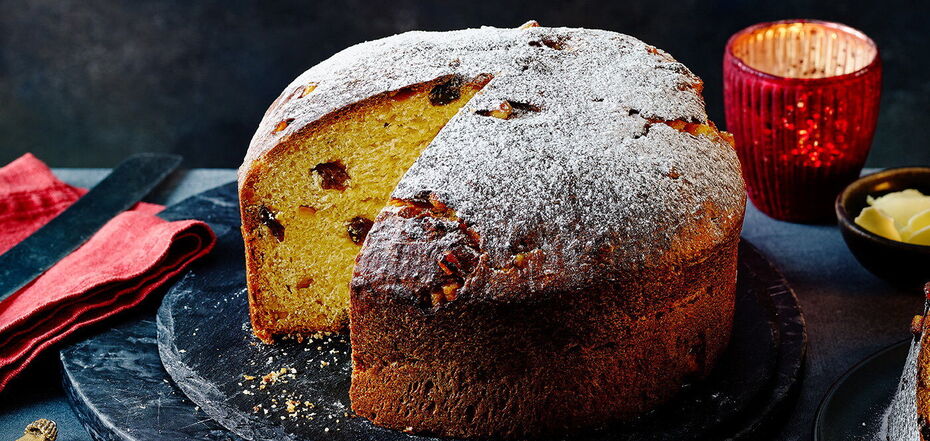 Panettone Pastry Recipe
"Panettone" is a puffy Italian pastry. The dough is made with milk, and a lot of dried fruit is used for the filling. It is especially important to make the sourdough properly so that the texture inside is spongy and soft.
The idea for the Italian Panettone Easter cake is posted on the Instagram page of food blogger Daria with the nickname daria_dish.
Biga (cooked from the evening):
Ingredients:
flour - 100 g
warm water - 75 ml
live yeast - 10 grams
salt - pinch
Ingredients for the dough:
flour - 360 g
warm milk - 110 g
live yeast - 30 g
oil - 135 g
sugar - 100 g
salt - 5 gr
egg yolks - 110g (6 eggs)
candied fruit - 200g (to taste), soaked in 200ml of liquid overnight (100ml of rum (it will evaporate) and 100ml of orange juice)
Ingredients for the fudge:
egg white - 30 g
sugar - 40 g
almond flour - 15 gr
Method of preparation:
1. For the beignets, dilute the yeast in warm water and add the flour and salt. Knead for 5 minutes and leave for 3 hours at room temperature, then stir again and place in the fridge for 10 hours.
2. For the dough, dilute the yeast in warm milk and mix with the yolks. Pour the flour and sugar and knead for 5 minutes.
3. Next, add the beignets, stir for another 5 minutes and send it to the refrigerator for 20 minutes. Now knead with room temperature butter for 15 minutes (don't be afraid that the dough is soft and sticky, just give it time and knead well with your hands).
4. The rest is to add the candied fruit, mix and set aside for 3 hours.
5. The dough turns out 1200-1300 g - this is 3 forms of 400 g. In the form let stand for another 3 hours.
6. Grease the top with fondant and send it to the preheated oven at 180 degrees, then immediately turn it down to 160 degrees and bake for 40 minutes.
7. Thread the finished Easter cakes on any stick and place them upside down to cool.
Also on OBOZREVATEL you can read the recipes: