Trending:
Homemade candied orange candied fruit for Easter: how to make it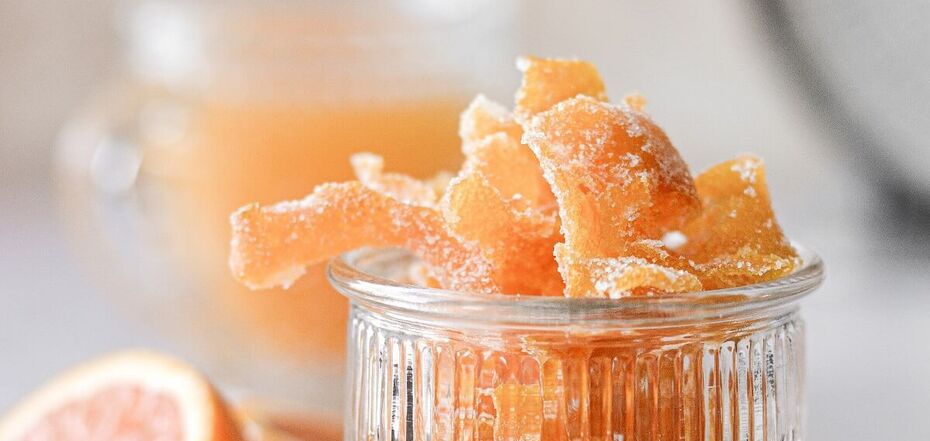 What to make homemade candied fruits from
Easter cake will be very tasty if you add raisins and a variety of dried fruits to it. Such an addition can be made at home. For this purpose, the skin of an orange is perfect - you get fragrant candied fruit.
The idea of making candied orange candied fruit for Easter is published on the page of food blogger Oksana Kretsul(oksana_kretsul) in Instagram.
Ingredients:
oranges - 4 pieces (weight of the peels themselves - 300 grams)
water - 100-120 ml
orange juice - 100 ml
cane sugar - 300 grams
vanilla extract - 1-1,5 tsp. or vanilla pod
badjan - 1-2 units.
juice - 1/4 from 1/2 lemon
Method of preparation:
1. Remove the peel from the orange (by cutting it into four pieces with a knife).
2. Pour steep boiling water, put it on the fire for 2 minutes.
3. Drain the water, pour cold (even ice cold) water over the peels.
4. Pour boiling water again and repeat the preliminary steps 3-4 times (okrop-cold water-okrop-cold water).
5. Mix sugar, orange and lemon juice, water, badanian and vanilla in a saucepan and put on the fire.
6. If you are using a vanilla pod, you have to cut it open.
7. Slice the peels into thin strips and then dice them.
8. Boil the syrup for 2 minutes, then add the peels and cook over low heat for 1 hour (until the peels have completely absorbed the syrup).
9. Place the strips on a baking tray and dry in the oven for 30-45 minutes at minimum temperature.
10. Allow the candied fruits to cool completely.
11. Store in a jar in the refrigerator until the Easter cake is ready.
Also on OBOZREVATEL you can read the recipes: