Trending:
Forget about it: 10 fashion rules that are outdated - you can safely break them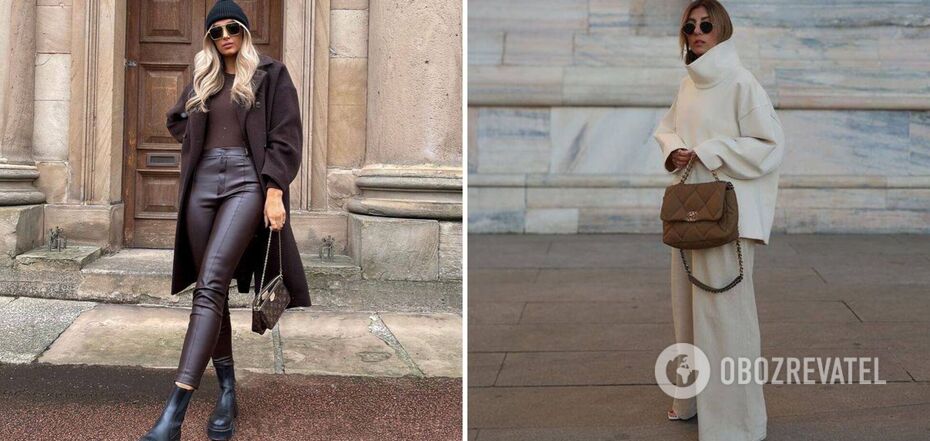 Black and brown and white bows are always in fashion
Fashion is cyclical, and what was considered bad taste a few years ago can be a hit now. And it is not necessary to always look up to catwalk models and wear what is considered popular. It is important to have your own individual style and wear what you feel comfortable in.
OBOZREVATEL would like to tell you about a few fashion rules that fashionistas have not been using for a long time. Feel free to ignore them.
1. Minimalist outfits
If you don't like monochrome suits, strict dresses without decor and boring jeans without scuffs, you can safely wear a dress over a bright top, a colourful coat or jeans with sparkles.
2. Do not combine brown and black
The combination of these tones can create a chic look. Besides, brown has a huge number of shades: from rich amber to deep chocolate. Add texture to your outfit for a more balanced look.
3. White outfits for work only
White is a truly royal colour, but we must admit that it is not at all practical. If you're not afraid of getting dirty while sitting on a park bench or visiting a restaurant, wear a chic light outfit in everyday life and feel like the most elegant girl.
4. Do not wear navy and black
Only recently, the combination of black and navy has been proclaimed the epitome of chic combinations. Navy blue jeans and a black top, or black trousers with an indigo turtleneck are great outfits for any occasion.
5. Horizontal stripes make you look bigger
If you still think that a horizontal striped dress will make you look bigger, you are wrong. The right style and cut of the product will fix the situation! So, don't be afraid to wear your favourite item that you rushed to put on the top shelf because of outdated rules.
6. Leggings are not trousers
The belief that leggings are only sportswear that can only be combined with hoodies and sneakers has long since been forgotten. You've probably seen some super trendy outfits with leggings and classic pin-striped jackets.
7. Crop tops on a mature woman are bad taste
It is unwise to give up crop tops just because you have reached a certain age. Wearing a cropped top has nothing to do with your parameters and the numbers in your passport. A successful combination will turn a look with this item into an extravagant outfit.
8. Do not mix gold and silver jewellery
What if you want to shine at an event with a gold ring given by your boyfriend and trendy silver earrings that will definitely drive all the ladies crazy? Put them on and feel confident.
9. You should have one corporate identity
The concept of corporate identity has long been outdated. Your fashion should not be limited to classic or minimalist outfits. Don't be afraid to be different and don't put yourself in a narrow frame.
10. Menswear is only for guys
Menswear is a storehouse of fashion solutions. An oversized jacket, a shirt and even cargo pants will diversify your style and make others admire your fine taste.
Recently, OBOZREVATEL reported on what minor details can spoil your appearance. Find out what can "cheapen" your look and reveal your lack of confidence in the article.
Only verified information is available in our Obozrevatel Telegram channel and Viber. Do not fall for fakes!