Trending:
Easter cake that won't stale for long: made with custard dough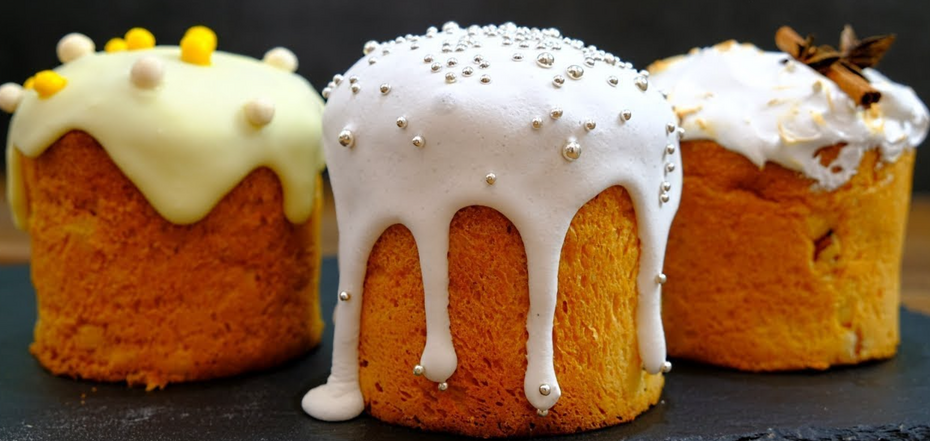 Recipe for Choux Easter cake
A choux Easter cake is a great version of an Easter pastry that is made with choux pastry. The pastry is tender, airy, moderately sweet and moist, and most importantly, it doesn't stale for long.
Food blogger Maria Mikhalchenko on her YouTube channel(Smakolik.ua Maria Mikhalchenko) shared her recipe for choux Easter cake.
Ingredients:
Brewing:
flour - 100 g
boiling water - 250 ml
Sourdough:
sugar - 1 tbsp.
milk - 250 ml
pressed yeast - 75 grams
Dough:
sugar - 350 g
5 yolks
5 eggs
vanilla - 1 tbsp.
salt - 0,5 tsp.
turmeric - 0,25 tsp.
1 lemon peel
flour - 1 kg
butter - 3 tbsp.
butter - 200 g
Extras:
flour - 1 tbsp.
dried fruit - 250 grams
Method of preparation:
1. Preparation of the brew. Pour the flour with steep boiling water and stir until homogeneous.
2. When the brew is warm, prepare the starter. Pour sugar into a bowl, pour warm milk and add yeast. Stir until dissolved.
3. Add the brew to the stew and stir. There may be lumps - this is normal. Cover with clingfilm and leave in a warm place for 20 minutes.
4. Separately mix sugar, eggs, yolks and vanilla. Beat with a mixer until the mixture is fluffy and white. Add to the stew.
5. Also add salt, turmeric and zest. Beat with a mixer until smooth.
6. Add half of the flour. Stir to combine.
7. Add the remaining flour and knead the dough.
8. Add the butter and knead the dough for 1-2 minutes more.
9. Rub the butter into the dough while continuing to knead. Leave the dough to rise for 60 minutes in a warm place.
10. Make a crumbled dough and leave to rise for another 60 minutes.
11. Again make a rinse for the dough and leave to rise for 10 minutes.
12. At this time, pour boiling water over the dried fruit, dry it and mix it with flour.
13. Grease the surface and your hands with vegetable oil. Place the dried fruit on the layer of dough and knead the dough to evenly distribute it. Allow to rest for a few minutes.
14. Shape the pastries and place them in the molds. Cover with clingfilm and leave to rise for 60 minutes.
15. Brush the pastries with egg yolk and milk. Bake at 170 degrees for 45-60 minutes.
Also on OBOZREVATEL you can read the recipes: