Trending:
Delicious Kaleidoscope Salad with Mayonnaise: What to Make for Easter 2023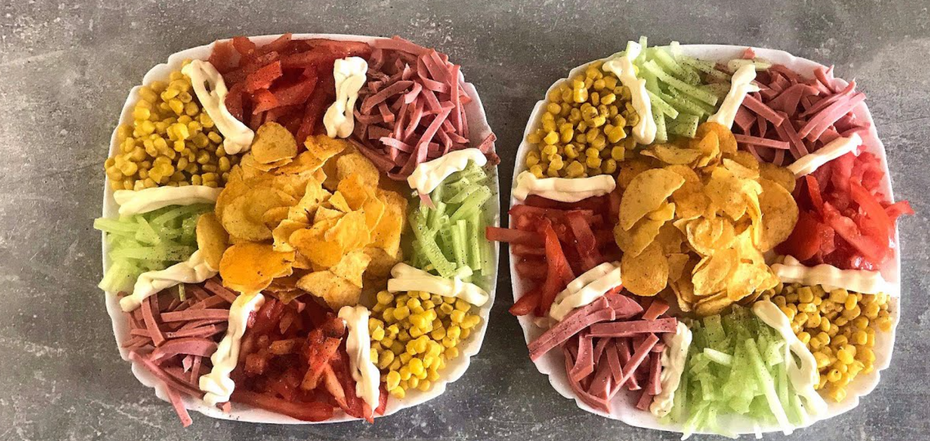 Easter Salad Recipe
At Easter, not only are Easter cake and Easter eggs prepared, but many other delicacies as well. These are usually homemade sausage, baked meats, and salty salads, as well as tasty salads.
One of the cooking blogs(zhuravlina_cooking) on Instagram posted a recipe for a delicious and colorful Kaleidoscope salad with mayonnaise that you'll make in just 5 minutes.
Ingredients:
ham (smoked chicken fillet or dry sausage) - 150 g
cucumber - 2 medium-sized pieces
hard cheese - 100 g
green onions - 30 g
korean carrots - 150 g
sweet pepper - 1 pc
croutons - 70 g
mayonnaise - 100 g
mustard with grains - 1 tsp.
Method of preparation:
1. Cut the peppers and ham in sticks. Cut most of the cucumbers into sticks and the rest into circles.
2. Cut the hard cheese into julienne slices or grate it on a grater.
3. Chop the green onions.
4. Place all the prepared ingredients on a plate in piles, put cucumber inside, cut into circles.
5. Between each pile place a strip of mayonnaise from edge to middle.
Also on OBOZREVATEL you can read the recipes: