Trending:
Blue and yellow eggs for Easter: what natural dyes to dye them with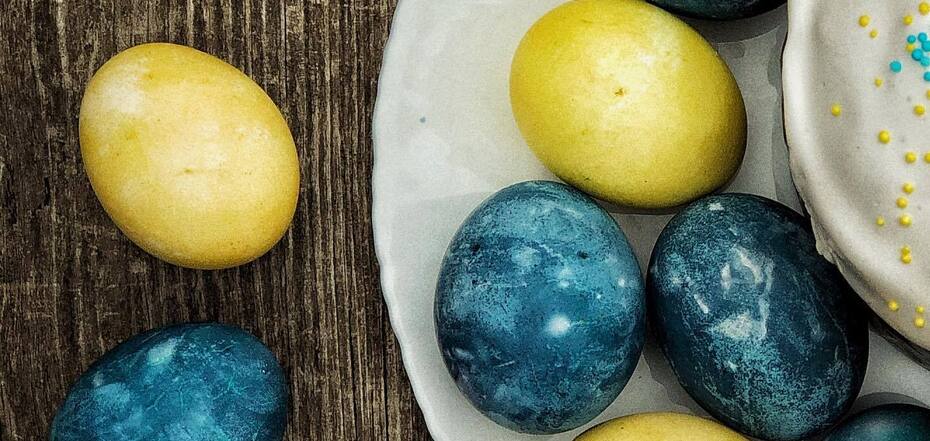 Patriotic decor for Easter 2023
For dyeing eggs for Easter, it is best to use natural dyes. It is safer and, if you follow the correct technology, the color will be richer. And if you want to make blue-yellow patriotic eggs - you should choose turmeric and purple cabbage.
On how to paint eggs in blue and yellow colors told food blogger Irina Lagoshnyak(decoira) on Instagram. It is very easy to make such patriotic decor.
For the yellow color:
1. Add 2 tablespoons of turmeric to 1 liter of water + 2 tablespoons of vinegar.
2. Boil the eggs in this water.
3. Turn off the fire and leave the eggs in the solution for at least 1 hour (the longer, the more intense the coloring).
4. Take out and gently blot with a paper towel.
For blue:
1. Chop purple cabbage (400-500 g) + add 1.5 liter of water.
2. Boil (for about 40 minutes) + add 2-3 tbsp. vinegar.
3. Boil the eggs in this water (you can remove the cabbage beforehand, but not necessarily).
4. Leave in the solution for at least another hour, preferably longer for more intense color.
5. Take out and also blot with paper towels.
The saturation and hue depend on the color of the egg shells, the length of time the eggs have been in the stained water. Also on the intensity of blotting at the final stage with a paper towel.
Previously, OBOZREVATEL reported on how to dye eggs with hibiscus tea.