Trending:
Alexandria Night Easter cake: how to make a special pastry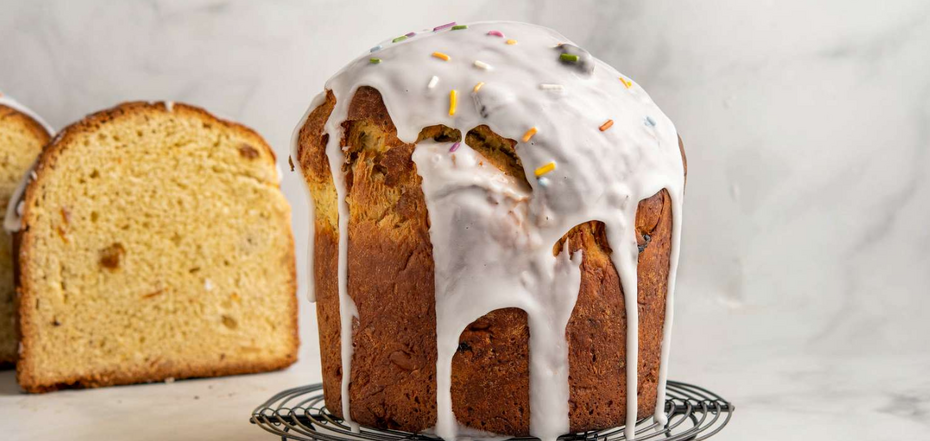 Alexandria Easter cake recipe
The Alexandria Easter cake is a very tasty and original pastry for Easter. It has a light, soft and airy dough, which is achieved by a special technology of preparation of the sourdough. In addition, when sliced, the Easter cake does not crumble and just melts in your mouth.
Food blogger Maria Mikhalchenko on her page(smakoluk.ua) in Instagram shared the recipe for a delicious Alexandria Easter cake. A special feature of Easter baking is that the dough must be left to infuse for at least 8 hours. Because of this, the cake is often called overnight pastry, because the sourdough is usually infused at night.
Ingredients (for 6 cakes 13 cm in diameter):
Stuffing:
milk - 0,5 l
sugar - 0,5 kg
yolks - 3 pcs.
yeast - 75 g
250 g cold butter
batter:
cognac - 1 tbsp.
salt - 0,5 tsp.
vanilla sugar - 1 p
1 lemon peel
dried fruit - 200 g
flour - 1,25 kg
Method of preparation:
1. To prepare the sourdough you need to mix sugar with warm milk, add the yeast and stir until dissolved.
2. Add the eggs, egg yolks and cold butter. Beat with a mixer. Then cover the stew with clingfilm and leave for 8-12 hours.
3. Add cognac, vanilla and lemon zest to the prepared sourdough. Stir.
4. Add half of the flour and the dried fruit. Stir to combine. Then add the remaining flour and knead the dough until it becomes homogeneous. Leave under a cling film for 1-1.5 hours in a warm place.
5. 5. Divide the dough into equal portions, shape into loaves and place in molds. Allow the Easter cakes to rise for 1.5 hours in a warm place.
6. Grease the cakes with beaten egg, put it in a preheated oven to 180 degrees. Immediately reduce the temperature and bake at 160 degrees for 50 minutes.
Also on OBOZREVATEL you can read the recipes: