Trending:
Zucchini like pineapples for winter: sharing the idea of preparing a popular appetizer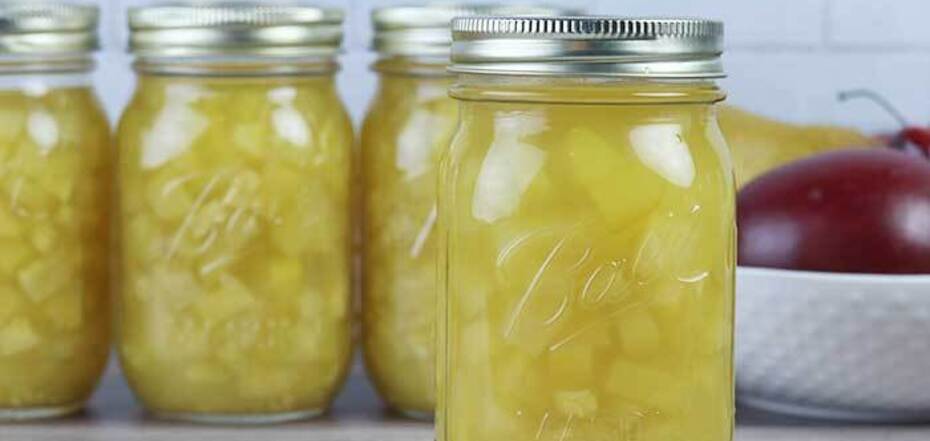 Delicious zucchini like pineapples. Source: kotibeth.com.
Zucchini can be prepared so that they will taste and look very similar to pineapples. To do this, you will need pineapple juice and a few other very simple ingredients. In winter, you can eat as an independent dessert or add to other dishes.
The idea of cooking zucchini, similar in taste and appearance to pineapples, is published on the page of a foodblogger with the nickname yummy_food_uaa in Instagram. You will be pleasantly surprised by the taste.
Ingredients:
1 kg zucchini (weight without peel and seeds)
450 ml pineapple juice
130 g sugar
1 tsp. without a slide of citric acid
Method of preparation:
1. Peel the zucchini from the skin and seeds. It is better to take large overripe zucchini of yellow color.
2. Cut into small pieces (like pineapple in jars). Transfer to a saucepan, cover with sugar, pour the juice.
3. Place on the heat, bring to a boil and simmer for 20-30 minutes over low heat.
4. The pieces should become transparent. Add citric acid, cook for another 2 minutes and pour into sterile jars, cover with lids.
5. It is best to first arrange the zucchini themselves in jars and then pour the syrup over them.
6. Do not pour full jars, because over time the zucchini will still absorb some of the juice. Pour the syrup up to the edge of the jar.
Also on OBOZREVATEL you can familiarize yourself with recipes: