Trending:
Zucchini like mushrooms: an idea for a tasty appetizer for winter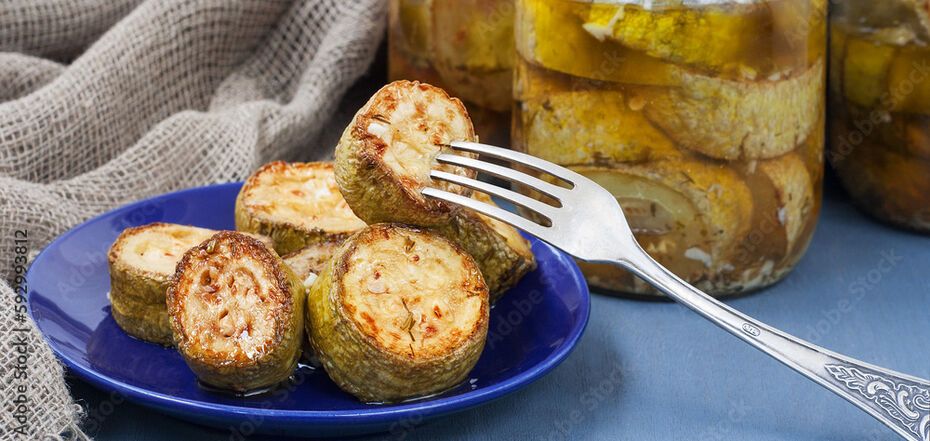 Delicious zucchini like mushrooms. Source: stock.adobe.com
If you prepare zucchini for the winter according to the following technology - they will be very similar to mushrooms. The flavor is simply not distinguishable. In the cool season, such an appetizer will be a great addition to porridge, meat and fish.
The idea of cooking zucchini, similar in flavor to mushrooms, is published on the page of food blogger Julia with the nickname juli_co.ok in Instagram. Jars with such zucchini can be well stored in apartment conditions.
Ingredients for 4 0.5 liter jars:
zucchini - 2 kg
garlic - 1 head
salt - 50 g
sugar - 125 g
9% table vinegar - 125 ml
black pepper - 1 tbsp.
parsley - 1 bunch
dill - 1 bunch
Method of preparation:
1. Cut zucchini into half rings, add finely chopped herbs and all other ingredients.
2. Mix well and leave for an hour.
3. At this time, stir the zucchini every 15 minutes.
4. Sterilize the jars.
5. After an hour, fill the jars tightly with zucchini. Add the juice formed at the end to each jar equally.
6. Put in a pot, add water so that the jars were almost covered with water (2 fingers of free space).
7. Cover with sterilized lids.
8. When the water boils in the pot, after 5 minutes the zucchini should boil (you will see bubbles in the jar). From this point, cook for 15 minutes.
9. Twist, put upside down, cover and let cool completely.
Also on OBOZREVATEL you can read the recipes: