Trending:
Why watermelon is healthy and what other products to combine it with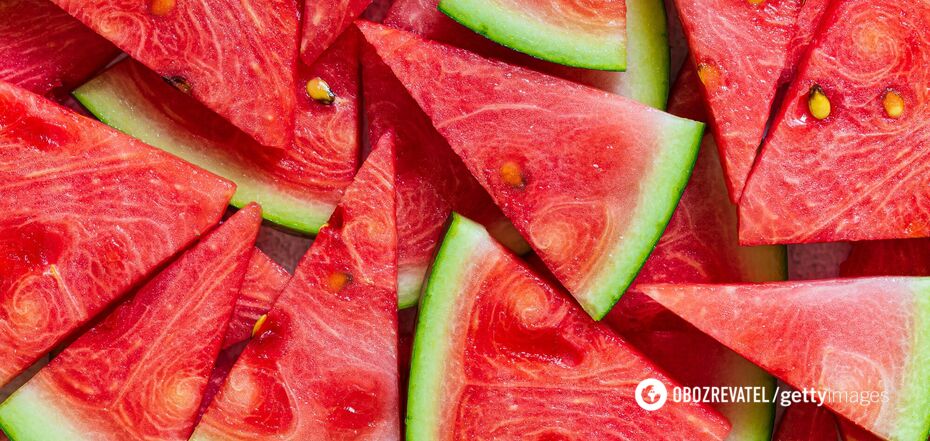 Why watermelon is healthy and what other products to combine it with
Watermelons are on the shelves of the supermarkets throughout the year. However, they are most delicious and healthy in late summer. Juicy and sweet watermelon is good on its own. But it can open up in a completely different way when combined with other ingredients. In addition, the watermelon fruit contains 92% water, so eating it will saturate the body with moisture and beneficial vitamins, minerals and antioxidants.
With its positive red color, watermelon is responsible for the antioxidant lycopene, which reduces the risk of cancer and diabetes. If it's important for you, choose a saturated red watermelon with a minimum number of seeds. The more ripe, the better.
The fruit normalizes the work of the cardiovascular system as it has magnesium, potassium, A, B6 and C vitamins, as well as amino acid citrulline, which can reduce blood pressure.
Vitamin C strengthens the immune system and helps the body absorb iron, while vitamin A is crucial for the health of the skin and eyes. If you eat watermelon sprinkled with salt, you will not only get new gastronomic sensations but also replenish the stock of lost electrolytes after exercise.
The fruit is indeed healthy. It can be combined with other foods without harm to health, for example, with meat and syrup. Just keep an eye on the quantity you eat. It is rich in fructose, which is digested in the intestines by the formation of gas. So, if you overeat watermelons, it will lead to unpleasant sensations in the gastrointestinal tract. I can not tell you the exact amount of watermelons per day, because it is necessary to evaluate the diet from the point of view of the whole diet. However, my general recommendation is not more than 300 grams of fruit per day. It is up to you to decide how much of this will include watermelons. People who have insulin resistance, cystic fibrosis and excessive weight should be very careful with the amount of the fruit.
We need to dispel the myth about nitrates in watermelons. Our body produces nitrates and they are necessary for its normal functioning. The biggest threat is nitrates which are converted into nitrites in the body. People need to eat a really large amount of watermelons for this to happen.