Trending:
Which dough to use to make a crispy apple galette: the perfect seasonal pastry for tea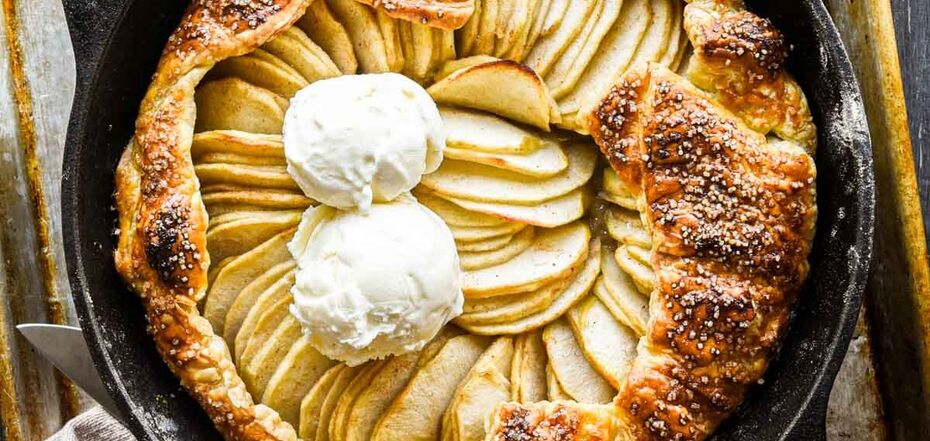 Delicious apple galette for tea made from crispy dough. Source: cozycravings.com
If you're tired of the traditional apple charlotte, make a flavorful galette for tea. The dough is golden and very crispy. It goes well with juicy fruits.
The idea of making a crispy galette with apples was published on the Instagram page of food blogger Yulia with the nickname cooking.by.yuliia. The pastries are not only delicious, but also very aesthetically pleasing.
Ingredients for the dough:
flour - 250 g
sugar - 1 tbsp
butter - 125 g
egg yolk - 1 pc
cold water - 2 tbsp.
Ingredients for the filling:
apples - 4 pcs.
starch - 1/2 tbsp
sugar - 1 tbsp
cinnamon - 1/2 tsp.
butter - 30 g
Method of preparation:
1. Add sugar, vanilla sugar, cold chopped butter to the flour.
2. Mix until the crumbs are homogeneous.
3. Add the egg yolk, water and knead the dough.
4. Roll out the dough into a circle.
5. Put the chopped apples on top.
6. Sprinkle with sugar, starch and cinnamon.
7. Fold over the edges, brush with egg and sprinkle with nuts (optional).
8. Put a few slices of butter on top of the filling.
9. Bake at 180° for 30 minutes.
You can also find more recipes on OBOZREVATEL: