Trending:
What unusual ingredient to combine liver in a salad: an unexpected and delicious idea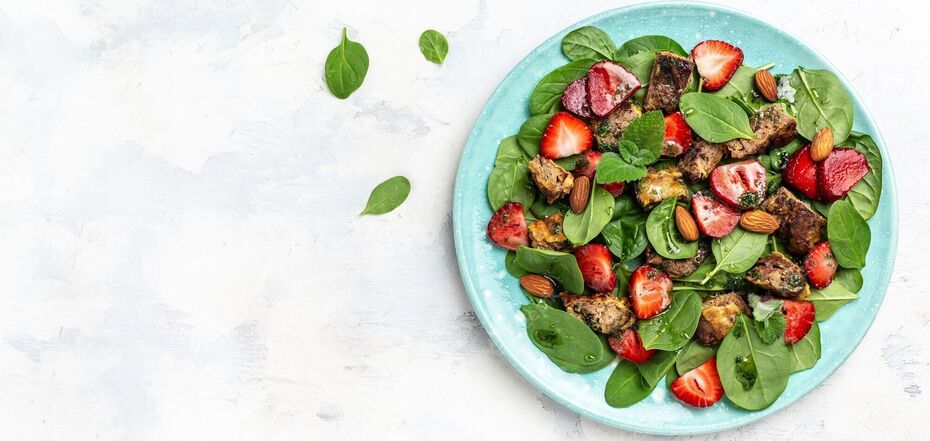 Delicious liver salad. Source: freepik.com
It is in the summer period you can experiment with different flavors to prepare a new unusual salad. Now there are a lot of fresh vegetables and fruits - all you need to do is add a light dressing. Strawberries and liver combine very well. It is very filling as well.
The idea of salad with liver and strawberries is published on the Instagram page of food blogger Luba Kachmar(kachmar_liuba). The meat will not be bitter, and will be very juicy and tender.
On the bottom of the plate we place
Ingredients:
rucola and spinach mix - 30 g
chicken liver - 100 g
cherry tomatoes - 2 units
strawberries - 2 pcs.
2 champignons - 2 pcs.
Method of preparation:
1. Baste the livers in flour and fry them in olive oil on both sides. Then add water and stew until tender under a lid. Taste and season with salt and pepper.
2. Place the mixed arugula and spinach on the bottom of the plate.
3. Drizzle with balsamic vinegar.
5. Slice the mushrooms and fry them in a dry frying pan.
6. Place sliced strawberries, cherries and mushrooms on the greens.
7. Next place the warm liver.
If desired, you can make the sauce:
50 g strawberries (blender)
1 tsp. Dijon mustard
1 tsp. olive oil
Also on OBOZREVATEL you can read the recipes: