Trending:
What to stuff eggplants with: the perfect lunch dish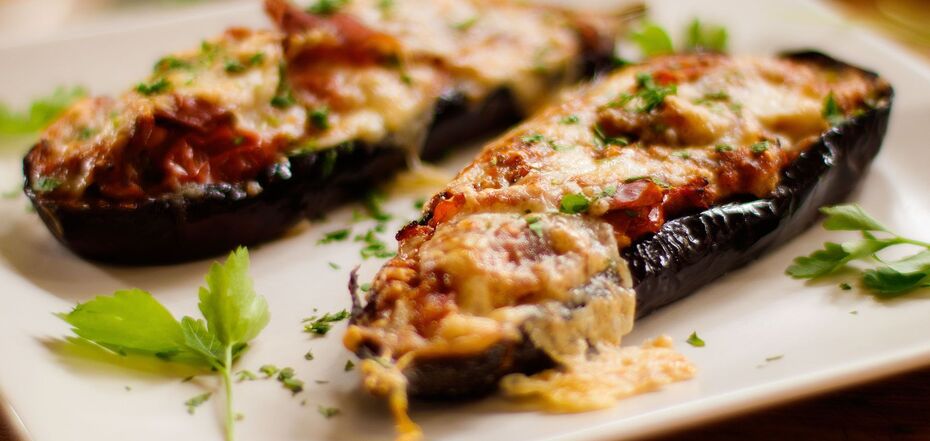 The most delicious stuffed eggplants for lunch. Source: recipe30.com
From seasonal eggplants you can prepare a full-fledged hearty lunch. To do this, they need to be stuffed. To make the vegetables nutritious and hearty, you should choose minced meat for stuffing.
The idea of cooking stuffed eggplants for lunch is published on the page of foodbloggerAnastasia Zhakulina(anastasia_zhakulina) in Instagram. All components remain healthy, because the dish is cooked in the oven.
Ingredients:
eggplants - 2 pcs
minced chicken - 300 g
onion - 1 pc
garlic - 1 clove
tomatoes - 250 g
hard cheese - 100 g
spices: salt, black pepper, coriander, dried garlic, Provencal herbs.
Method of preparation:
1. Cut the eggplants in half and make incisions.
2. Brush with olive oil, season with salt, garlic powder and Provencal herbs.
3. Bake in a preheated oven at 190 degrees for 20-30 minutes (depending on the size of the eggplants)
4. Dice the onion and garlic into small cubes.
5. In a heated oiled frying pan, fry the onion and garlic until golden.
6. Add the minced meat and mix thoroughly.
7. Stir fry for 10 minutes over medium heat.
8. Then add chopped tomatoes to the minced meat, stir and stew for another 15-20 minutes.
9. Eggplants are ready, take a fork and knead the middle, add some cheese, top with the filling and cheese again. Put them in the preheated oven for a few minutes.
Also on OBOZREVATEL you can read the recipes: