Trending:
What quick dish to prepare from zucchini for lunch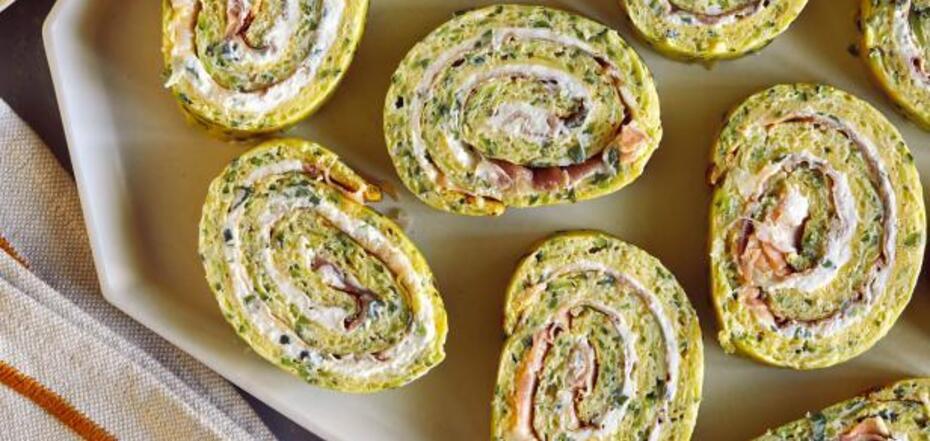 Zucchini roll with cheese and garlic. Source: foodnetwork.com
When there is a lot of zucchini left, a successful idea is to make a hearty roll. The vegetable simply needs to be grated. It will be delicious to combine zucchini dough with tender cheese filling.
The idea of cooking a hearty zucchini roll is published on the page of food blogger Victoria with the nickname viktoria__cooking on Instagram. This dish is enough for the whole family.
Ingredients (per 30x20cm mold):
300 g zucchini + 1/3 tsp salt
2 eggs
2 tbsp. flour with a slide
1 tbsp. sour cream
salt, pepper to taste
Ingredients for stuffing:
100 g processed cheese
40-50 g cream cheese or sour cream
2 garlic cloves
salt, pepper to taste
herbs
1 pepper and 1 tomato
Method of preparation:
1. Grate the zucchini on a large grater, salt and leave for 10 minutes to let them juice.
2. Add sour cream, salt and pepper to the eggs to taste and beat with a fork until homogeneous.
3. Squeeze juice from zucchini, add eggs, mix, add flour and mix again.
4. Cover the baking mold with parchment, grease the parchment with vegetable oil, spread the zucchini mixture and flatten well.
5. Bake at 200 degrees for 25-30 minutes.
6. Remove the dough from the oven immediately and place on a cooling surface.
7. Grate cheese on a fine grater, add chopped garlic, cream cheese or sour cream, herbs, salt and pepper to taste and mix for the filling.
8. Cut the pepper into strips and the tomato into slices.
9. Spread the filling on zucchini and lay out red peppers and tomatoes.
10. Wrap in a roll, tightly wrap with food film and leave in the refrigerator for 1-2 hours.
Also on OBOZREVATEL you can find recipes: