Trending:
What food to take with you on a camping trip: top 8 products that can come in handy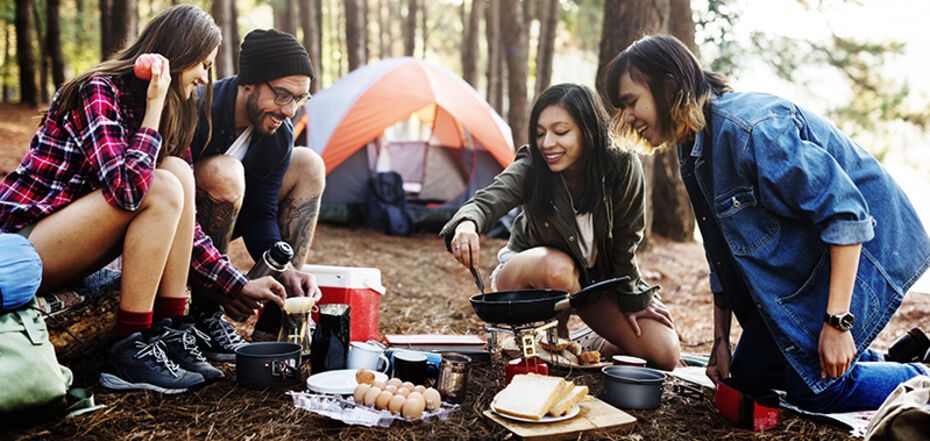 What's the best food to take camping. Source: tentworld.com.au
When the heat dies down a bit and it gets cooler outside, it's time to go camping. Whether you're camping overnight or just spreading out a blanket and relaxing in nature for a few hours, make sure you bring the right food with you. The food shouldn't be affected by the weather, and it should be easy to store.
FoodOboz editorial staff will tell you what products are best to take with you on a camping trip. You will definitely not stay hungry.
Nuts and dried fruits
A variety of nuts and dried fruits do not require special conditions and a lot of storage space. And these products do not need cold either. Therefore, for camping such food is ideal.
Crackers and granola
Similar to nuts and dried fruits, foods such as crackers, cookies, granola, raw pasta and rice are good choices for camping. Pancake powder mix is a good breakfast product.
Canned fish, meat and soup products
Tuna and other canned fish or meat do not require refrigeration, making them good camping food. This is true for canned soup and beef. These foods have a long shelf life and you don't have to worry about their temperature.
Oranges
Oranges and other fresh fruits are another good choice. They don't need to be refrigerated and often have thick peels that serve as protection for the pulp. Another advantage of packing fruits such as oranges, bananas and tangerines is that they don't need extra washing after peeling if your hands are clean. Keep in mind that if the peel is damaged, the fruit is more conducive to bacterial growth.
Canned fruit
Canned peaches, fruit salad, and other canned fruit products are a great snack option while camping. Especially if you eat the whole can in one sitting so you don't have to refrigerate. It's just worth remembering the can opener.
Dehydrated and freeze-dried foods
Dehydrated travel foods are some of the best foods for camping. They are lightweight, don't need refrigeration, and are easy to prepare. Typically, all you have to do is boil some water, add it to the package, stir everything up, close the package and wait a few minutes (usually less than 10) before your food is ready.
Peanut Butter
Peanut butter is perfectly safe to store unrefrigerated, whether it has been opened or not.
Hard-boiled eggs
If you want to take your eggs on a camping trip, you should hard-boil them at home and let them cool at room temperature. Air-cooling prevents any organisms from entering the eggs, which can happen if you cool them in water. Make sure the shells aren't cracked or soiled after the eggs are cooked. Raw eggs should be discarded on a camping trip.
Earlier OBOZREVATEL reported, what products should not be bought in the supermarket