Trending:
Walnut jam: a preparation that should be made for the winter for sure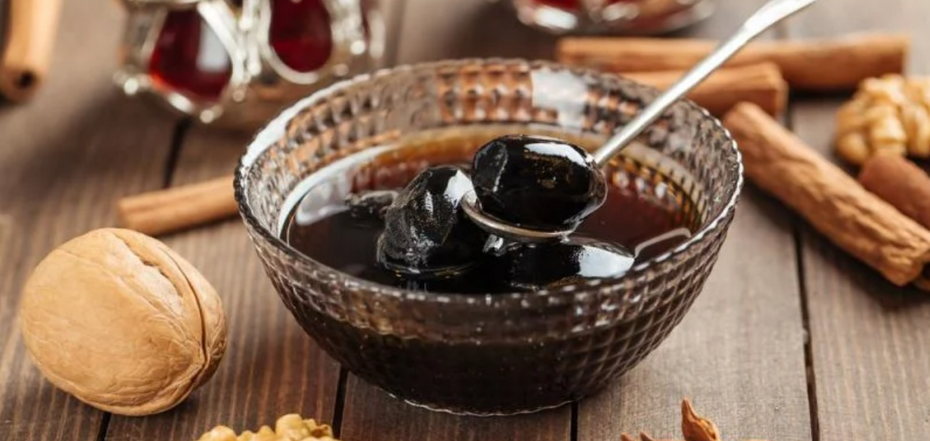 Walnut jam recipe. Source: depositphotos.com
Walnut jam is a very original and spicy preparation for the winter. According to experts, such a dessert is very useful, because it contains a large amount of iodine. It also increases immunity during colds. Cooked nut jam is easy, but there are a few important points to remember.
FoodOboz editorial staff will share with you the most successful recipe for young green walnut jam.

Ingredients:
young green walnuts - 1 kg
sugar - 1 kg
water - 300 ml
spices to taste: ground cinnamon, cloves, anise, cardamom
cocoa - 2 tbsp.
Method of preparation:
1. First, you need to collect nuts and select young ones with soft skin, which are easily cut with a knife.
2. Transfer to a large container, pour water and leave for 15-20 days. The water should be changed every day.
Important: the nuts need to be soaked to keep the jam from becoming bitter.
3. When the time is up, put the container with the nuts on fire and cook for 90 minutes until they can be easily pierced with a toothpick.
4. Separately, mix 300 ml of water with sugar and bring to boil. Cook the syrup until the sugar has dissolved.
5. Place nuts in the resulting syrup and cook the jam for 90 minutes. Put cinnamon, cocoa and other spices 10 minutes before the end.
6. Pour hot jam into sterile jars and close with lids. Done!
Earlier OBOZREVATEL reported how to remove the pips from cherries and wild cherries quickly.