Trending:
Versatile pickles for winter: for salads, sandwiches and burgers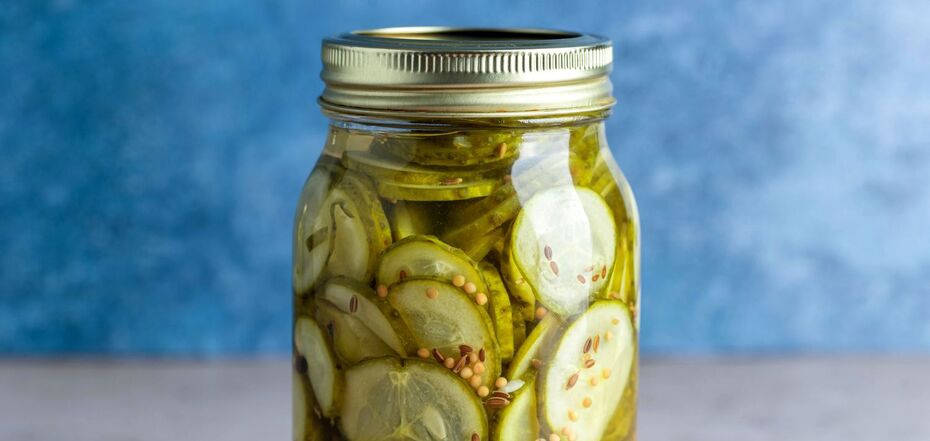 Pickles ''Pikuli'' cucumbers in circles for the winter. Source: thespruceeats.com
Pickles are very spicy and sour-sweet cucumbers for the winter. They can be eaten as an independent appetizer or added to a variety of dishes. Vegetables will be a great addition for homemade burgers and sandwiches, salads.
About how to prepare spicy pickles for the winter told on the culinary page vse_vyroste in Instagram. They are very convenient to store in small jars, because the vegetables are cut into circles.
How to cook cucumbers "Pickles":
1. Cut 1 kg of cucumbers in rings, 250 g of onions in half rings, add 2 tsp. salt, mix and leave for 3 hours to let everything empty juice.
2. After 3 hours, drain the juice (rinse the cucumbers do not need), add:
apple cider vinegar - 350 ml
sugar - 300 g
turmeric - 0.5 tsp.
French grain mustard - 2 tbsp.
3. Stir, put on medium heat, bring to a boil, boil for 3 minutes so that the cucumbers change color, do not cook long enough not to turn into mush.
4. Pour into sterilized jars, wrap in a blanket and leave until completely cooled.
Also on OBOZREVATEL you can read the recipes: