Trending:
Ukrainian eggplant babaganush: how to make a traditional seasonal appetizer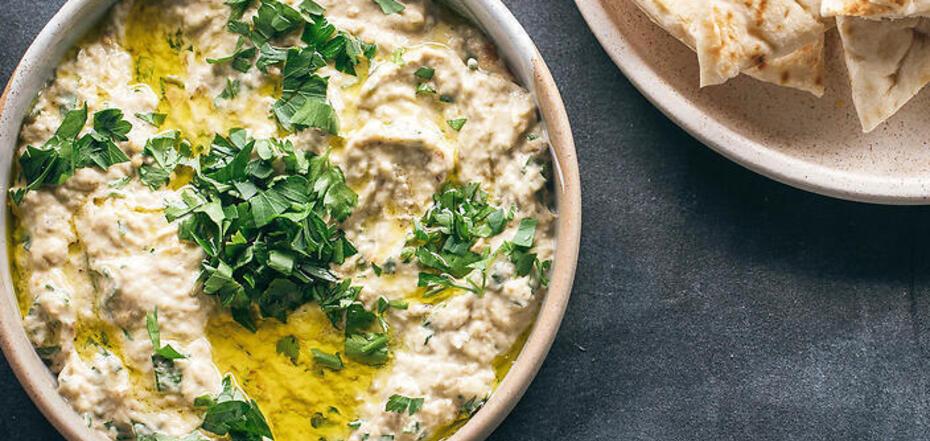 How to cook babaganoush. Source: sbs.com.au
Babaganoush is a tasty eggplant appetizer that can be eaten instead of spread on bread. It'd be a good idea to make it now because it's a perfect time for these vegetables. All the ingredients retain their beneficial properties because you just need to blend.
The cooking recipe of babaganoush from eggplants is published on the culinary page tastystories.feed on Instagram. The dish is quite nutritious.
Ingredients:
eggplants medium - 2 pcs
garlic - 1 head
tahini (sesame paste) - 1 tbsp.
lemon juice - 1-2 tbsp.
olive oil
salt - 1 tsp. without a slide, up tp your taste.
celery stalks and carrots for serving
Instructions:
1. Cut off the top of the garlic, put it in a baking dish with the eggplants and pour vegetable oil over it.
2. Bake the eggplants in the oven at 180 degrees Celsius for 30 minutes.
3. When the top of the garlic become deep yellow color - take it out.
4. For the tahini, mix 2 tbsp roasted sesame seeds, 2 tbsp vegetable oil and 2 tbsp lemon juice.
5. Whip it all up with a blender, but not an immerse it.
6. Take the cooked eggplants out to cool.
7. Take out the pulp.
8. Wrap in cling film, cut off the tip and squeeze out the center.
9. Squeeze baked garlic into the eggplant flesh, a spoon of tahini and salt.
10. Whisk everything together, taste for salt. add more if necessary. You can add ground black pepper. You can also add 2 spoonfuls of Greek yogurt for a milder flavor.
11. Serve with carrots and celery stalks.
Also on OBOZREVATEL you can find more recipes: