Trending:
Trendy bananas with chocolate in the dough: the dessert went viral on social networks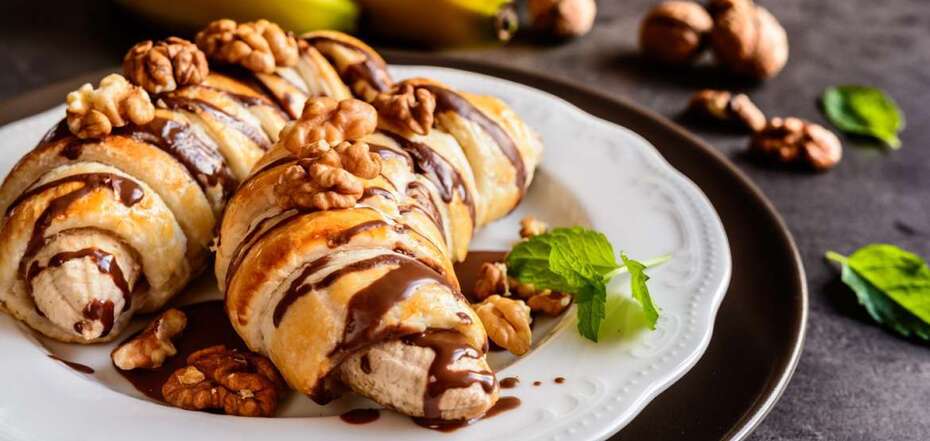 Bananas with chocolate in the dough. Source: thefoodie.si
Bananas and chocolate are foods whose flavors go together perfectly. And if you add dough, you get a very basic and unrealistically delicious dessert. This is what many chefs are now preparing on social media.
The idea of cooking trendy bananas in dough was published on the Instagram page of food blogger Natalia Zhuk (nataliia_zhuk_cooking). The taste will pleasantly surprise you.
Ingredients:
4 bananas
8 small pieces of chocolate
500 g of puff pastry
egg yolk + 1 tbsp of milk
sesame seeds
Method of preparation:
1. Peel the bananas.
2. Using a small spoon, take out the middle of the banana, along the length of the fruit so that it looks like a boat.
3. Put the chocolate inside.
4. Roll out the dough a little.
5. Cut into strips of such a size that they can be used to wrap a banana.
6. When wrapping, it is important to seal the ends well.
7. Put the bananas in the dough on a baking sheet.
8. Brush with egg yolk and milk or just egg.
9. Sprinkle sesame seeds on top.
10. Put in an oven preheated to 200 degrees for about 20-25 minutes.
11. If desired, you can top with chocolate.
You can also find recipes on OBOZ.UA: