Trending:
Transcarpathian "Rokot Krumpli": how to cook a delicious potato casserole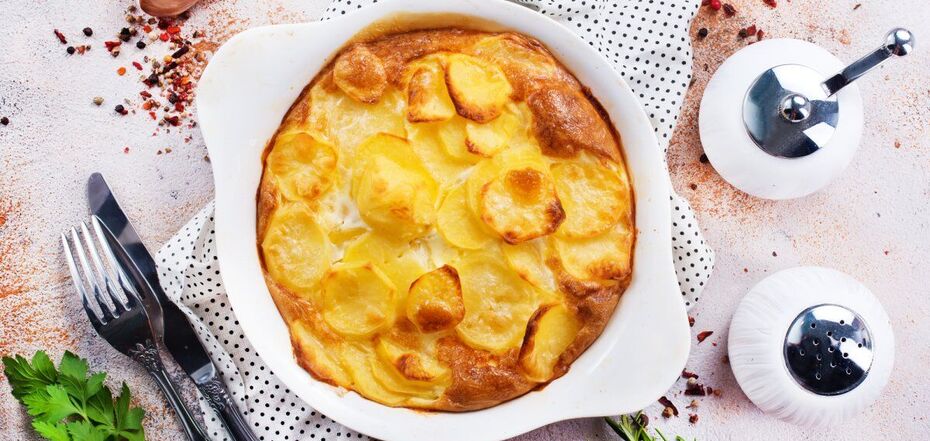 Potato casserole. Source: depositphotos.com
"Rokot krumpli" is a traditional Transcarpathian dish, which is a potato casserole. Its peculiarity lies in the fact that sour cream filling is used for cooking, which makes the casserole very tender and flavorful.
One of the culinary blogs (So Delicious) published a recipe for the Rokot Krumpli potato casserole on Telegram.
Ingredients:
potatoes - 8-10 pcs
eggs - 5 pcs
onions - 3 pcs
chopped sausage - 1 pc
paprika
For the filling:
sour cream - 300 g
water - 200 ml
flour - 1 tbsp
salt - 1 tsp.
Method of preparation:
1. First, boil the whole potatoes until tender, peel and cut into slices.
2. Also boil the eggs and cut them into slices.
3. Chop the onion and sausage. First, fry the onion until soft, add paprika, stir and add the sausage. Fry together for a few minutes.
4. Mix sour cream, water, flour, and salt for the filling.
5. Grease a baking dish with vegetable oil. Put a layer of potatoes, onions, eggs and pour the filling.
6. Bake at 250 degrees for 25 minutes. Enjoy!
You can also find more recipes on OBOZREVATEL: