Trending:
Transcarpathian goulash with thick gravy: recipe for a hearty dish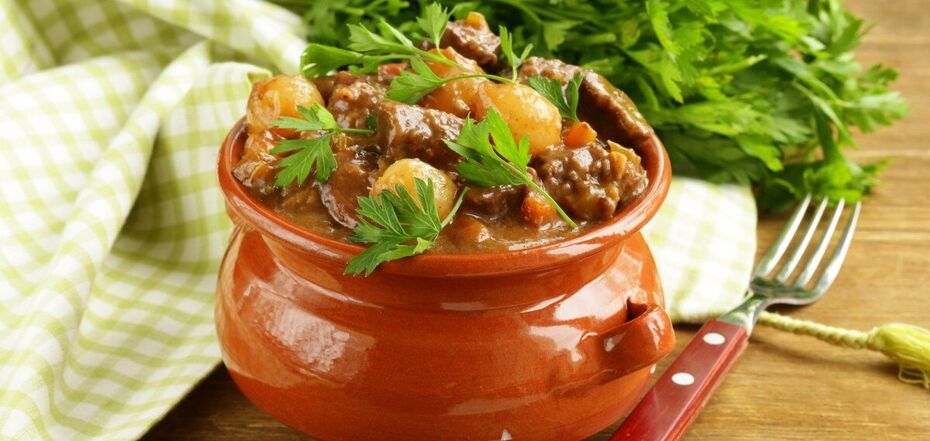 Goulash with meat and beans. Source: depositphotos.com
Goulash is a hearty dish of stewed meat in gravy, often supplemented with vegetables and even beans. It is so satisfying that it can be eaten on its own with bread, or served with cereals, potatoes, or pasta.
Food blogger Alex Mil (mil_alexx) shared a recipe for Transcarpathian goulash with pork and beans on his Instagram page.
Ingredients:
potatoes - 1.2 kg
pork - 800 g
beans - 400 g
vegetable oil - 30 g
onion - 200 g
carrots - 250 g
mashed tomatoes - 200 g
water - 1 liter
salt, pepper, paprika, herbs
Method of preparation:
1. Chop onion and put it in a frying pan heated with vegetable oil. Fry for 4-5 minutes, stirring constantly. Add 1 tbsp of paprika and stir again.
2. Chop and add meat to the onion. Fry for 7-8 minutes, stirring constantly.
3. Grate carrots and add to the meat. Add salt, pepper and mashed tomatoes. Cook for 15 minutes.
4. Cut and add potatoes. Then add water and cook for 1 hour under the lid.
5. Add canned or boiled beans and cook for another 10 minutes.
6. Sprinkle the dish with herbs before serving. Enjoy your meal!
You can also find more recipes on OBOZREVATEL: