Trending:
This "upside down" seasonal pie with apricots turns out very tender and airy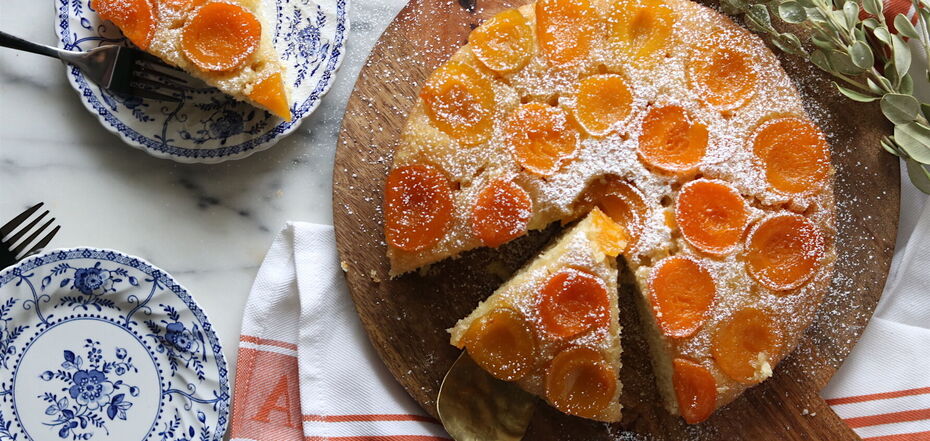 ''Upside down'' apricot pie. Source: mealtime.org
Seasonal apricots are a great base for making delicious baked goods, especially if the fruit is arranged on top. The pie will turn out very lush, tender and juicy.
The idea of cooking "upside down" apricot pie is published on the page of food blogger Victoria with the nickname kelbas_v on Instagram. The dessert is as simple as possible and is done quickly.
Ingredients for stuffing:
400-500 g apricots
200 g sugar
50-70 ml water
Method of preparation of stuffing:
1. Cut apricots in half and remove pits.
2. Put them in a saucepan.
3. Add sugar and water.
4. Cook over medium heat for 10 minutes (should simmer a little) and leave to cool down
Ingredients for the dough:
3 eggs
200 g sugar
1 bag of vanilla sugar (10 g)
100 g butter
200 g sour cream
280 g flour
1 sachet of leavening agent (12-15 g)
Batter preparation method:
1. Separate whites from yolks and beat yolks with sugar and vanilla sugar.
2. Add sour cream and melted butter (warm) and stir.
3. Pour in flour and baking powder.
4. Whip the whites with a pinch of salt to thick peaks and add to the batter.
Assembling the cake:
1. Grease the bottom and sides of the mold with vegetable oil.
2. Lay out apricots (the more apricots, the more beautiful the cake will be).
3. Pour a little syrup in which the apricots were boiled.
4. Pour batter on top, gently flatten everything by shaking the mold from side to side.
5. Place the cake on a baking tray so that the syrup that flows out does not smear the oven.
6. Bake for 35-40 minutes at 190 degrees.
7. Leave the pie in the oven for 20 minutes.
Also on OBOZREVATEL you can read the recipes: