Trending:
The perfect Basque cheesecake for tea: it turns out very tall and puffy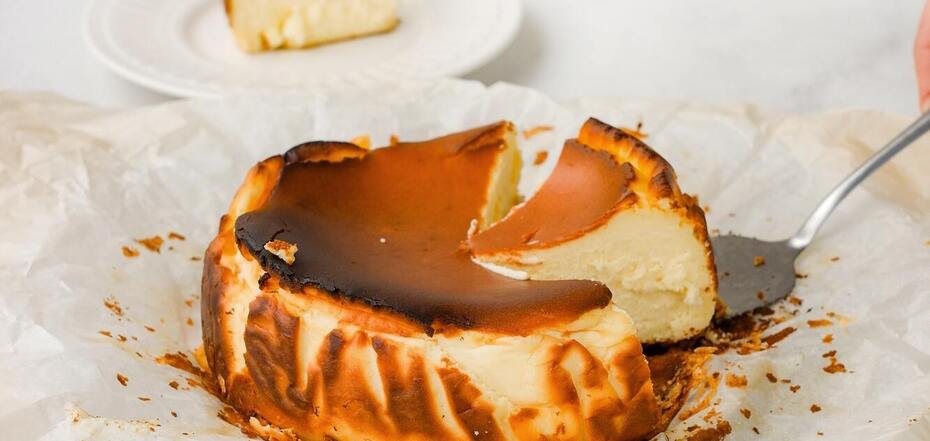 Basque cheesecake recipe. Source: Pexels
Basque cheesecake is a traditional Spanish dessert. The peculiarity of its preparation is that immediately after baking, the mass is very soft, as if it were about to fall over. But after it is stabilized, it has a very delicate flavor and a dense texture.
The idea for pistachio-chocolate Basque cheesecake is published on food blogger Victoria's (foodnvika) Instagram page. It can be served with seasonal berries.
Ingredients:
1 kg cream cheese
600g cream 33%
300g white chocolate
150g pistachio paste
250g sugar
5 large eggs
15 g starchvanilla paste
strawberries for decoration
Method of preparation:
1. Place the fermented cottage cheese in a bowl and beat on medium speed.
2. Heat the cream over a heat and add the sugar - you do not need to bring the cream to the boil, just heat to 70-80 degrees.
3. The sugar should dissolve in the cream.
4. Gradually add the cream and sugar to the curd - whisk it all together.
5. Then add the eggs, pistachio paste, vanilla paste, starch and melted chocolate.
6. The chocolate is best melted in the microwave in gradual pulses.
7. Line the mould with damp parchment.
8. After the mixer, whisk the mixture well with a blender and pour into the prepared mould through a sieve (to remove any extra bubbles).
9. Send to the oven at 220 degrees for 22 minutes.
10. Take the cheesecake out of the oven (it will seem very runny - that's how it should be).
11. Let it cool at room temperature and put it in the fridge for 24 hours.
12. Serve with berries.
Also on OBOZREVATEL you can read the recipes: