Trending:
The most delicious eggplant caviar: how to prepare a popular appetizer for the winter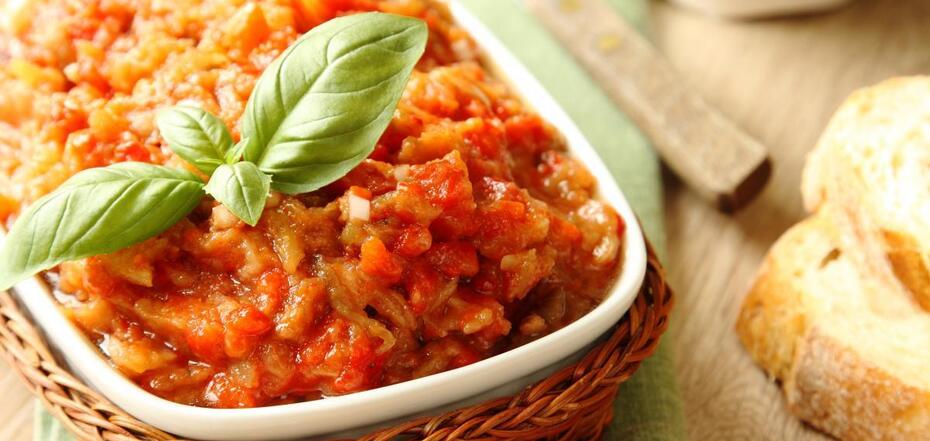 Eggplant caviar. Source: depositphotos.com
The most delicious appetizer that can be prepared from eggplants is caviar. The dish is perfectly preserved for the winter and complements any porridge, meat and fish. It can also be eaten directly with bread on sandwiches.
The idea of preparing the most delicious eggplant caviar is published on the page of food blogger Yulia with the nickname juli_co.ok on Instagram. Garlic adds a special piquancy.
Method of preparation:
1. Cut 2.2 kg of peeled eggplants into bars.
2. Pour 2 tbsp. of salt.
3. Let it sit for 30 minutes.
4. Blanch 1 kg of tomatoes, remove the skin and put through a meat grinder.
5. Put 0.5 kg of peeled bell peppers through the meat grinder, as well as one hot pepper.
6. Put the eggplants through the grinder as well and squeeze out the juice. You should get 1 kg.
7. Transfer tomatoes, peppers and eggplants in a saucepan.
8. Bring to a boil and add 2 tbsp sugar, 1 tbsp spicy salt (Svan, Adygea, spicy) and 60 ml oil.
9. Bring to a boil again and cook for 30 minutes, stirring occasionally.
10. After 30 minutes, add 10 garlic cloves (crushed or grated) and cook for another 15 minutes. Add 1 tbsp. of vinegar and cook for another 1-2 minutes. Add salt to tate.
11. Transfer to sterilized jars, let cool. You can store in the apartment.
Also on OBOZREVATEL you can read the recipes: