Trending:
The ideal proportions for classic Napoleon dessert, which will always turn out well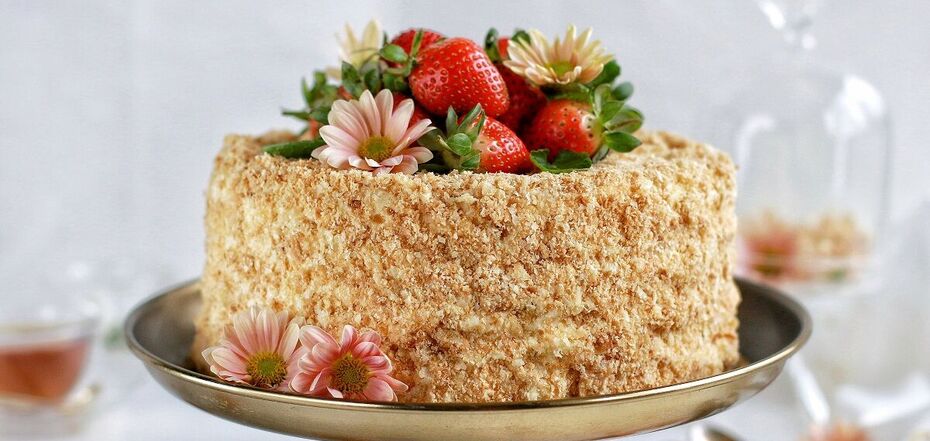 Ideal proportions for a delicious Napoleon. Source: nikki.ua
Napoleon is a world-famous dessert served in expensive restaurants and also prepared for various family celebrations. And even though there are many interpretations, the most popular remains the classic version. It has its crispy puff pastry, as well as a delicate custard.
The idea of preparing a classic Napoleon dessert is published on the page of food blogger Oksana Bilinska (oxana_bil) on Instagram. The dessert is simple to prepare if you adhere to the following technology.
Ingredients for the dough:
400 g butter
700 g flour
2 eggs
250 ml ice water
25 g apple cider vinegar
1 tsp. salt
Ingredients for the cream:
1 liter of milk
75 g cornstarch
190 g sugar
75 g butter\
1,5 tsp. vanilla extract
7 yolks
300 ml of chilled cream (33-36%)
Preparation method:
1. Mix flour with salt, rub frozen butter and rub everything into crumbs.
2. Beat the egg with cold water and vinegar until smooth, pour into the dry mixture and knead the dough (no need to knead for a long time, just bring it together).
3. Divide the dough into 10-12 portions, form small balls and place on a plate; cover with foil and place in the refrigerator for 1 hour.
4. Add 75g of sugar to the yolks and mix to make the cream.
5. Next, add starch and stir so that there are no lumps
6. Add the remaining sugar to the milk and bring to the boil, but do not boil.
7. Remove from fire.
8. Pour part of the milk into the yolks; stir and pour this mixture back into the milk. Place over medium heat and, stirring constantly, cook until thick (remove from heat, add butter and stir).
9. Pour the cream into a clean dish, cover with cling film and leave to cool at room temperature.
10. Sprinkle the parchment with a little flour, roll out the puff pastry into a thin layer and cut out a circle with a diameter of 24 cm.
11. Prick the pastry with a fork and transfer the pastry paper to a mold (do not remove any leftovers).
12. Bake at 210 degrees for 7-10 minutes until browned and cool the finished shortcakes (all 12 pcs).
13. Whip the cooled cream to peaks. Whip the custard mixture as well.
14. Combine the cream and custard mixture, beat the rest of the cakes with a blender into crumbs.
15. Assemble the cake, top with cream and sprinkle with crumbs.
16. Put in the refrigerator for 5 hours to soak well.
Also on OBOZREVATEL you can read the recipes: