Trending:
The iconic "Smerekova Hata" cake with cherries: how to prepare the dessert correctly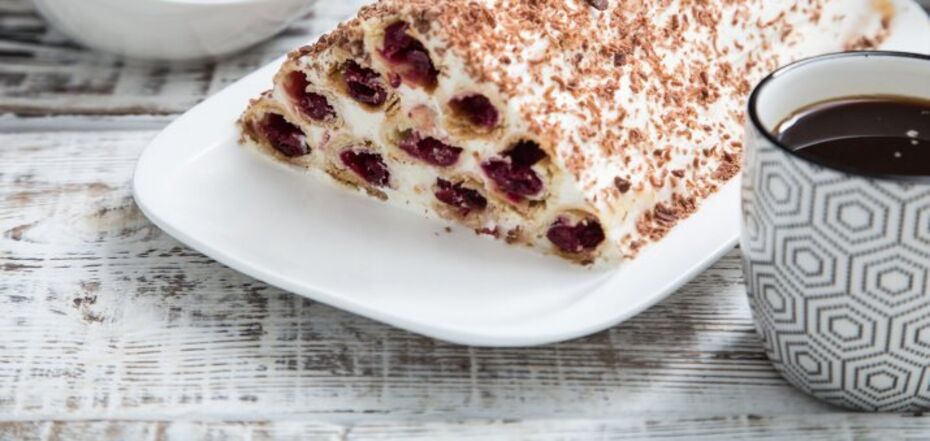 Classic recipe for the ''Smerekova Hata'' cake. Source: sprawdzone.pl
"Smerekova Hata" is a cake that is prepared for various celebrations in Ukraine. It contains juicy cherries that go well with shortcrust pastry and delicate cream. The original recipe has been passed down from generation to generation and is still very popular.
The idea of making the "Smerekova Hata" cake was published on the Instagram page of food blogger Yulia with the nickname cooking_by_yuliya. It is best to use canned cherries.
Ingredients for the cakes:
400 g flour
200 g of melted butter
200 g of sour cream
a pinch of salt
Method of preparation:
1. Mix all the ingredients and knead the dough.
2. Divide into 5 pieces and refrigerate for 30 minutes.
3. Roll out each piece and divide into 3 parts, you should get 15 tubes.
4. Bake at 200 degrees for 25-30 minutes.
Ingredients for the cream:
200 g cream 30% cold
170 g of sugar
400 g of sour cream 30%
The method of preparing the cream:
1. Whip cream with sugar, add sour cream at the end and whip again.
2. Put the cake in a slide and leave it to soak at room temperature for 3-5 hours, and then refrigerate.
You can also find recipes on OBOZREVATEL: