Trending:
Tasty eggplant salad for winter: how to prepare a spicy appetizer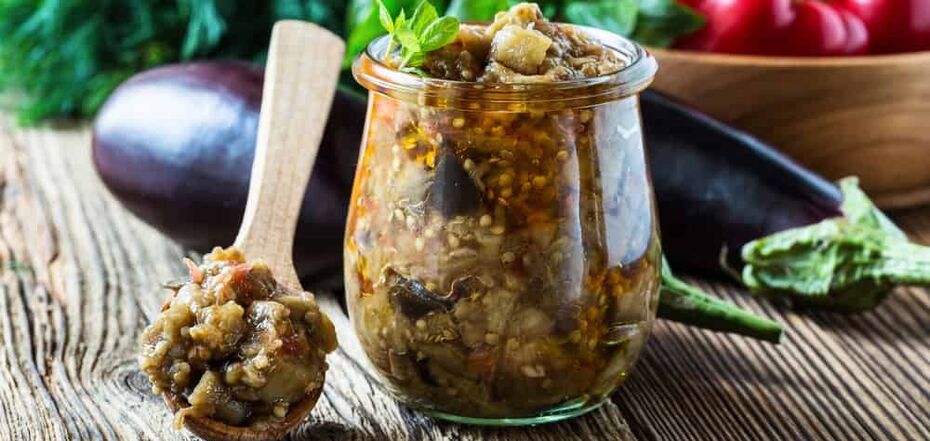 Recipe for a delicious salad for winter from eggplants. Source: morningchores.com
Eggplant is an excellent basis for cooking delicious appetizers. For the winter, you can make a very simple salad. In addition to eggplants, you can add other vegetables there. The dish turns out very spicy and flavorful.
The idea of preparing a delicious salad from eggplants for winter is published on the Instagram page of food blogger DianaGaiduk (daria_gaiduk22). The salad stores very well.
Ingredients:
eggplants - 3 kg
bell pepper - 700 g
tomatoes - 600 g
chili pepper - 5 pcs
garlic - 14 cloves
salt - 2 tsp.
sugar - 4 tsp.
vinegar - 100 ml
vegetable oil - 150 milliliters (+ a little more for frying eggplants)
Method of preparation:
1. Rinse eggplant, tomatoes, bell peppers and chilies in clean water, remove stems from eggplants.
2. Slice the blue ones into circles about one centimeter thick.
3. Season the eggplants with one tablespoon of salt.
4. Pour cold water into the container with the eggplants so that the vegetables overlap.
5. Stir everything gently to dissolve the salt.
6. Cover the eggplants with a flat plate and place a small weight so that the circles are completely submerged in the salted water.
7. Allow to stand for 20 minutes.
8. Cut off the stem and remove the seeds from the bell peppers and chili peppers.
9. Peel the garlic.
10. Drain the eggplants and squeeze them lightly with your hands.
11. Heat a small amount of vegetable oil in a frying pan and fry the eggplants on both sides until an appetizing golden crust appears.
12. Place the cooked slices on paper towels to get rid of excess oil.
21. Make a high-powered fire.
22. After boiling, turn down the fire to medium and sterilize the blank for 15 minutes.
23. Roll up the jars with sterile lids and leave at room temperature until cooling.
Also on OBOZREVATEL you can familiarize yourself with the recipes: