Trending:
Tastier than cucumbers: how to cook lightly salted zucchini in 15 minutes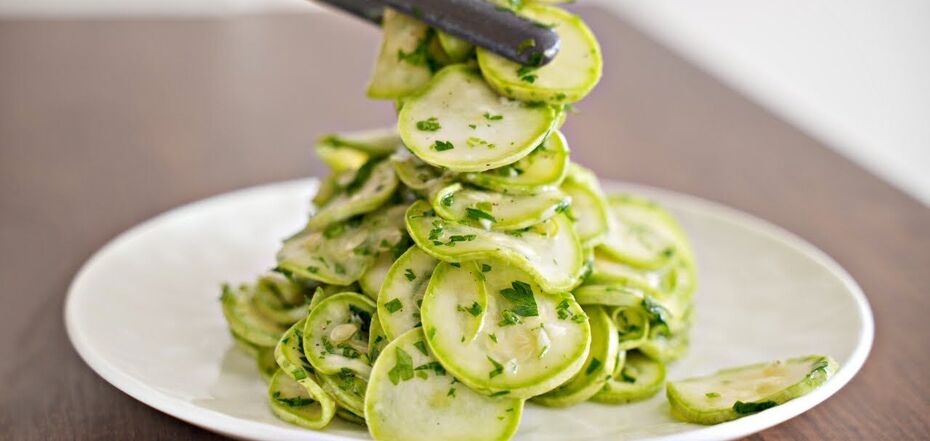 Salted zucchini. Source: Screenshot from Alina Foody's YouTube video
Zucchini can be pickled for the winter or made into a quick snack and served immediately. In this case, it should be flavoured with savoury spices, garlic and herbs. Zucchini is very crispy and even tastes better than cucumbers.
Food blogger Nataliia Zhuk (nataliia_zhuk_cooking) shared a recipe for lightly salted marinated zucchini with garlic in 15 minutes on her Instagram page.
Ingredients:
zucchini - 600 g
salt - 0.5 tsp. salt
pepper
Provencal herbs - 1 tsp.
sugar - 1 tsp.
lemon juice - 2 tbsp.
garlic - 2-3 cloves
vegetable oil - 2 tbsp.
Method of preparation:
1. First, wash and cut the zucchini into cubes.
2. Put the chopped zucchini in a bag, add salt, pepper, Provence herbs, sugar, lemon juice or apple cider vinegar.
3. Squeeze the garlic through a press and add the oil. Mix everything thoroughly.
4. Close the bag tightly and leave it in the fridge for 15 minutes. Then put it on a plate and serve. Enjoy your meal!
You can also find more recipes on OBOZREVATEL: