Trending:
Tastes like olives: how to properly pickle grapes for winter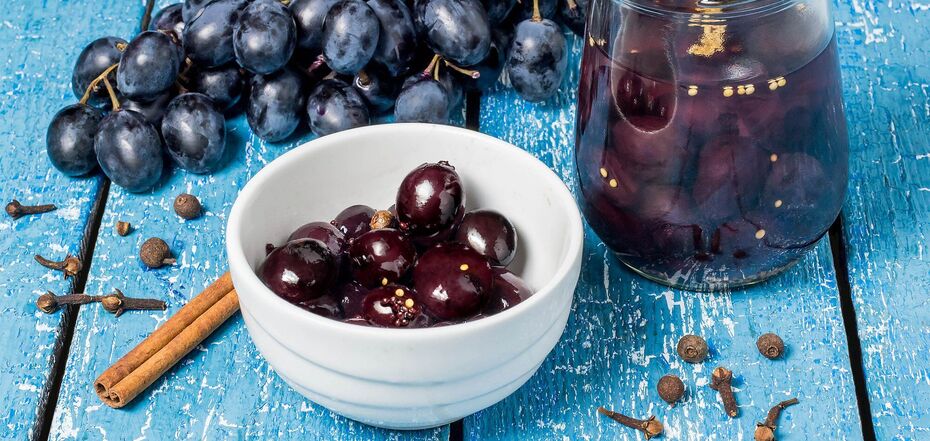 Pickled black grapes for the winter. Source: depositphotos.com
Grapes can not only be eaten on their own, prepare salads and compotes from it, but also canned for the winter. In this form, it is served on the festive table as an appetizer or decorate sandwiches. The most important thing in cooking is the use of aromatic spices and a successful marinade.
FoodOboz editorial staff will share with you a successful recipe for black canned grapes for the winter.
Ingredients:
grapes - 200 g
sugar - 2 tsp.
water - 1 tbsp.
vinegar - 20 ml
salt - 1/2 tsp.
ground cinnamon - 1/2 tsp.
allspice, peas - 5 pcs.
bay leaf - 1 pc
cloves
Method of preparation:
1. First you need to prepare containers and lids, namely sterilize them.
2. After that, you should prepare the grapes, namely clean them from the branches. Put the berries in jars.
3. Next, you need to prepare the marinade. To do this, pour salt, sugar, cinnamon, put a bay leaf, cloves and allspice into a pot. Fill everything with water and put on the fire. Bring to a boil, stirring occasionally.
4. When the marinade boils, add vinegar and cook for another 2-5 minutes.
5. Hot marinade should be filled with jars with grapes. Cover with lids and transfer to a pot of water (the bottom of the container should be covered with a towel). Sterilize jars with grapes for 10 minutes from the moment of boiling.
6. Sterilized jars immediately rolled up with lids. Turn upside down and cover with something warm, leave in this form until completely cooled. Done!
Also on OBOZREVATEL you can read the recipes: