Trending:
Tastes like meat: how to make delicious onion pancakes with gravy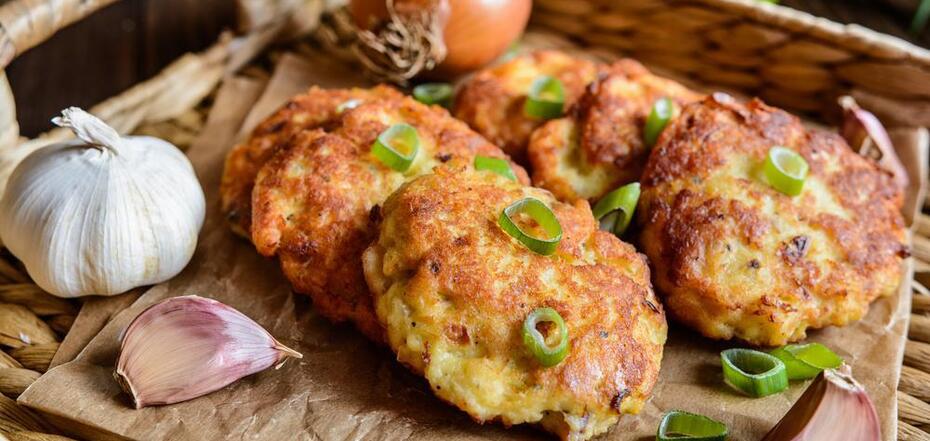 Onion cutlets. Source: depositphotos.com
Onion pancakes are a delicious dish of Ukrainian cuisine. Simply put, these are delicious onion cutlets. It is worth noting that the vegetable reveals its flavor in a different way in this dish: it becomes soft and not bitter. You can serve onion patties hot and cold
Food blogger Yulia Kovalchuk (channelvo_ua) shared a recipe for onion cutlets on her Instagram page.
Ingredients:
onions - 5 pcs
eggs - 5 pcs
salt, pepper
flour - 7-8 tbsp
For the gravy:
onions - 2 pcs
carrots - 1-2 pcs
tomato paste or tomato sauce - 3-5 tbsp
salt, sugar, pepper
hot water - 500 ml
bay leaf - 2 pcs
Method of preparation:
1. First, cut the onion into cubes and put into a bowl.
2. Add eggs, salt, pepper and flour to the onion. Mix everything thoroughly.
3. Spoon the dough into a frying pan heated with vegetable oil and fry the onions on both sides.
4. At the same time, chop the onion and grate the carrots. Put the vegetables in another frying pan heated with oil. Cook until soft.
5. When the vegetables are soft, add the tomato paste, salt, sugar, pepper and hot water. Cook for another 10 minutes. Add the bay leaves at the end.
6. From the skillet, put some of the gravy in another skillet, put a layer of onion bulbs on top, and then another layer of gravy. Repeat until you run out of ingredients. Cook under the lid over low heat for another 20 minutes. Enjoy!
You can also find more recipes on OBOZREVATEL: