Trending:
Super easy honey kiwi cakes: even easier than the popular cake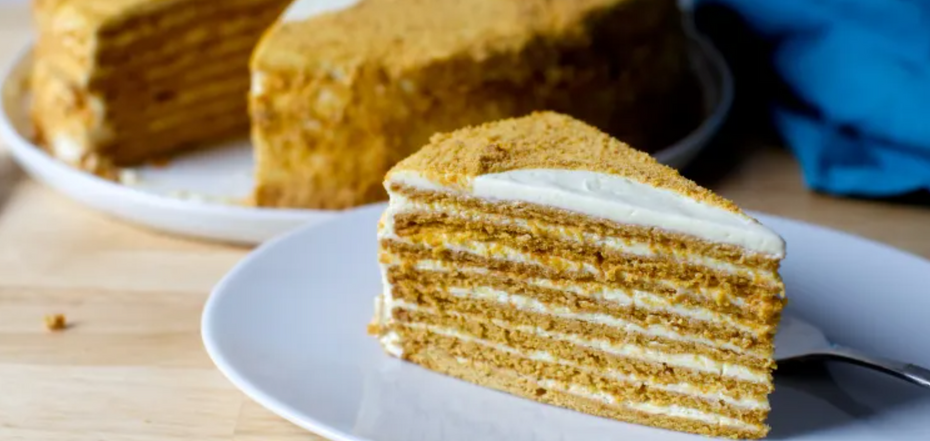 Elementary cakes instead of honeydew. Source: i0.wp.com
Classic honey cake is a sponge cake in which natural honey is added and the crusts are soaked in delicate butter cream. In Ukraine, this dessert is prepared quite often for all sorts of celebrations. And if a whole cake to cook is not very appropriate and there is not enough time for it - make honey cakes from kiwi.
The idea of making lazy honey kiwi cakes is published on the Instagram page of food blogger Julia Vilich (vilich_food_blog). They are much easier to make.
Ingredients for the dough:
200 g butter
170 g sugar
170 g natural honey
2 tsp. baking soda (without a slide)
4 eggs
300 g sifted flour
Instructions:
1. Butter, honey and sugar need to be melted.
2. Then add baking soda and let the mixture cool for 5 minutes.
3. Separately beat eggs until puffy and light in color.
4. Combine the butter-honey and egg substances.
5. In two batches, add the flour.
6. Divide the dough into two parts.
7. Place one part on a parchment-lined baking tray, spreading the dough as evenly as possible.
8. Each crust is baked for 4-5-6 minutes. It should be sufficiently browned. We let the tortillas cool, equalize the edges, divide each into two parts, in total we get 4 crusts.
Ingredients for the filling:
300 g of sliced kiwi
100 g sugar
10 g cornstarch
Method of preparation of the filling:
1. To the kiwi, add the starch and sugar mixture.
2. Stirring constantly, boil the filling for 1 minute after boiling.
3. Let it cool.
Ingredients for the cream:
500 g cream cheese
350 ml of 20% fat sour cream
100 g powdered sugar
1 tsp. vanilla paste (optional)
Method of preparation:
Chill ingredients combine and whisk for 2 minutes. The cake should stand in the refrigerator for at least 3 hours before slicing.
Also on OBOZREVATEL you can read the recipes: