Trending:
Spicy pickled plums: a recipe for a win-win snack for the winter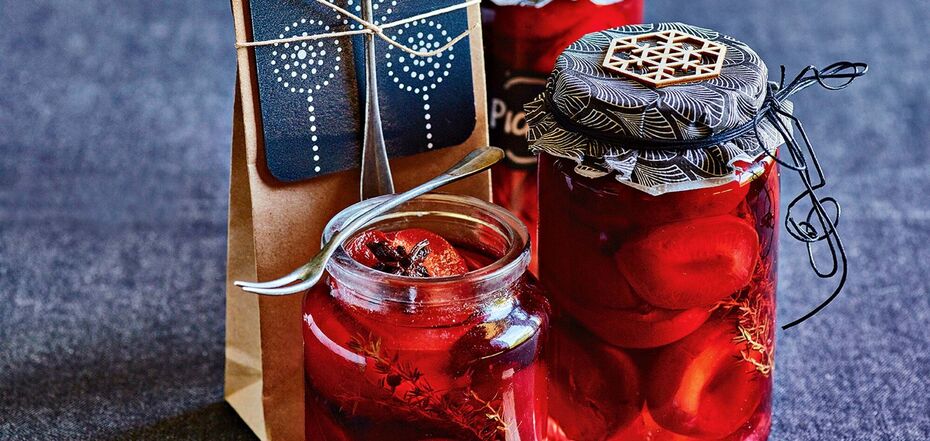 Pickled plums. Source: taste.com
It is often said that pickled plums are a great alternative to olives and olives. In addition, this snack tastes good in salads, with meat and fish, and can also be eaten on its own. They are spicy, aromatic, juicy, crispy and hold their shape well.
Food blogger Natalia with the nickname talli_sun shared a recipe for pickled plums for the winter on her Instagram page.
Ingredients:
water -1 liter
sugar - 5-6 tbsp (focus on plums, if not too sweet, add another spoon)
bay leaf - 10 pcs
oregano pepper peas - 12-13 pcs
cloves - 12-13 pcs
cardiac - 2 pcs (stars)
cinnamon - 1-2 sticks
apple cider vinegar - 5 tbsp. tbsp.
plums - 1 kg
Method of preparation:
1. First, wash and dry the plums, make punctures with a toothpick so that the skin does not crack from the hot water. Put them in a bowl.
2. Pour water into a saucepan, add sugar, bay leaf, cloves, star anise, cinnamon. Put on the fire, bring to a boil and cook for 5 minutes.
3. Pour the hot marinade over the plums and leave for 15 minutes.
4. Then pour the marinade into a saucepan and put the plums in sterile jars.
5. Bring the marinade to a boil, add the apple cider vinegar and remove from the heat. Fill the jars with the marinade and roll up the lids. Cool and store in a cool place. Enjoy your meal!
Earlier, OBOZREVATEL reported how to make wine from plums.