Trending:
Spicy eggplant teriyaki with plums: how to prepare a seasonal appetizer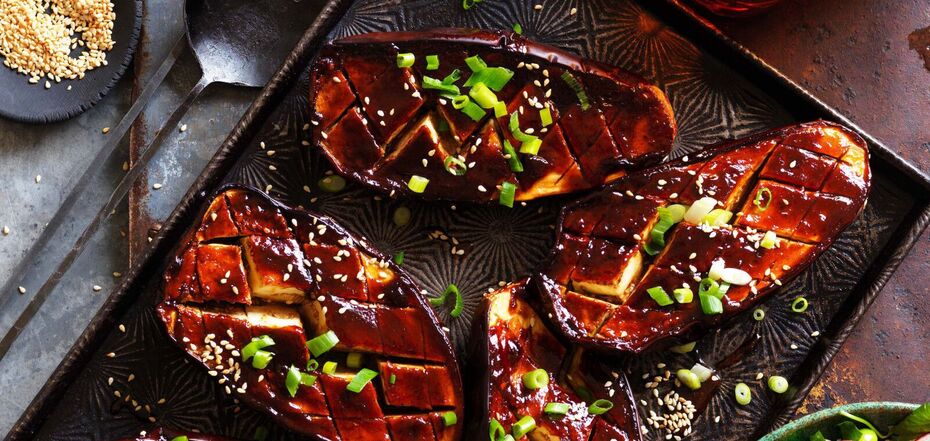 Teriyaki eggplant recipe. Source: myfoodbook.com.au
Eggplants are deliciously combined with completely different foods, even with plums. It turns out to be an extremely spicy and juicy appetizer that allows you to feel the taste of the fall.
The idea of making teriyaki eggplant with plums was published on the Instagram page of a food blogger called aleksa_litvish. Red wine adds a special piquancy.
Method of preparation:
1. Cut 6-8 pieces of plums into halves and remove the seeds.
2. Pour 80 ml of red wine into a saucepan and add 80 g of sugar.
3. Boil over medium heat until the water is evaporated by about a half.
4. Put the plums cut side down in one layer and turn them over after 2 minutes.
5. Add 1. tablespoon of Worcestershire sauce.
6. Cut the eggplant lengthwise into 2 halves.
7. It is important to make diamond-shaped cuts. This will create a uniform crust.
8. Brush with olive oil and salt.
9. Put in a 200-degree oven for 30-40 minutes (depending on size).
10. Take out, brush with Teriyaki sauce (you can also try balsamic vinegar) and return to the oven for 1 minute.
11. Eat with soft cheese, such as burrata.
You can also find more recipes on OBOZREVATEL: