Trending:
Spectacular "peat" cake with cherries: tastier than any cottage cheese casserole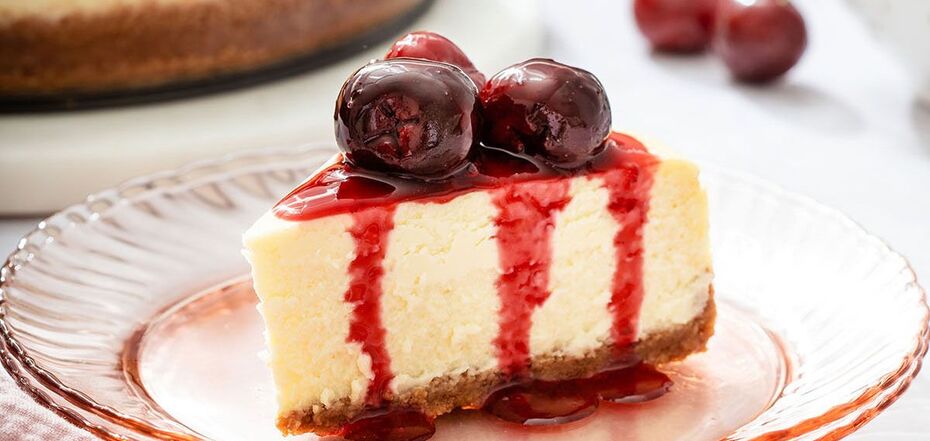 Cheese ''peat'' cake with cherries. Source: takestwoeggs.com
This "peat" pie with cherries will be a great alternative to any cottage cheese casserole and pies. No dough will have to be kneaded, because the base is ordinary cookies. The dessert turns out moderately sweet, very tender and holds its shape well.
The idea of cooking "peat" cake with cherries was published on the Instagram page of food blogger Aleks Mil (mil_alexx). Seasonal cherries are perfectly combined with cottage cheese mass.
Ingredients for the dough:
400 g flour
4 tbsp cocoa
100 g sugar
pinch of salt
200 g cold butter
Ingredients for the filling:
500 g non-fat acid-set cheese
4 eggs
150 g sugar (or substitute)
100 g sour cream (15%)
2 tbsp. starch
vanilla sugar - 10 g
400 g seedless cherries + 1 tbsp. starch
Method of preparation:
1. Put flour, cold butter, sifted cocoa, a pinch of salt and sugar in a bowl. Grind everything with your hands into crumbs or use blender.
2. Put cottage cheese, sour cream, sugar, vanilla sugar and eggs in another bowl and beat with a blender into a homogeneous mass.
3. Add starch and stir.
4. Add cherries to starch. Mix.
5. Pour 2/3 of the crumb mass into a parchment-lined mold and press it.
6. Pour half of the cheese mixture into the mold, cover with berries and fill with the remaining cheese mixture.
7. Sprinkle the remaining crumbs on top.
8. Bake at 180 degrees Celsius for 60 minutes.
9. Let cool completely.
Also on OBOZREVATEL you can read the recipes: