Trending:
Spectacular Fish in the Pond salad for the holiday table: tastier than mimosa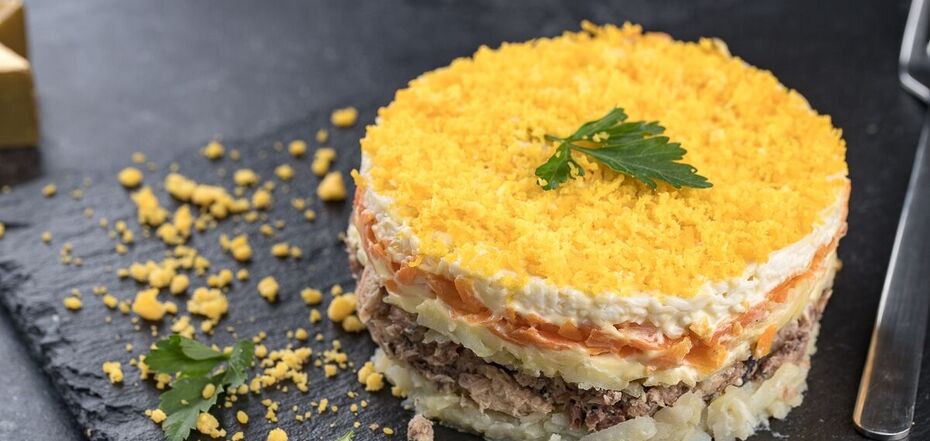 Salad ''Fish in the pond''. Source: qadin.net
"Fish in the Pond" is a spectacular salad based on sprats, as well as many delicious vegetables and cheese. It tastes similar to traditional mimosa and sardine. The dish is perfect for a festive table or just for lunch.
The idea for the Fish in the Pond salad was published on the Instagram page of food blogger Dmitry with the nickname dmytro.bakhmetyev. You will make this dish very quickly, because most of the ingredients need to be grated.
Ingredients:
potatoes - 200 g
carrots - 200 g
sprats - 160 g
processed cheese - 2 pcs
boiled egg - 2 pcs
hard cheese - 100 g
mayonnaise - to taste
green onions and sprats for decoration - 3 pcs
Method of preparation:
1. Boil potatoes, carrots and egg. Cool.
2. Grate the potatoes and put the first layer. Season with salt and mayonnaise.
3. Grate the carrots and put the next layer. Mayonnaise.
4. Mash the sprats with a fork and layer them. Mayonnaise.
5. Grate the processed cheese and put a layer. Mayonnaise.
6. Grate the eggs and put a layer. Mayonnaise.
7. Grated hard cheese on top.
8. Refrigerate for at least 10 hours.
9. Garnish with green onions and sprats.
You can also find recipes on OBOZREVATEL: