Trending:
Spectacular berry cheesecake with lemon curd and meringue: how to make it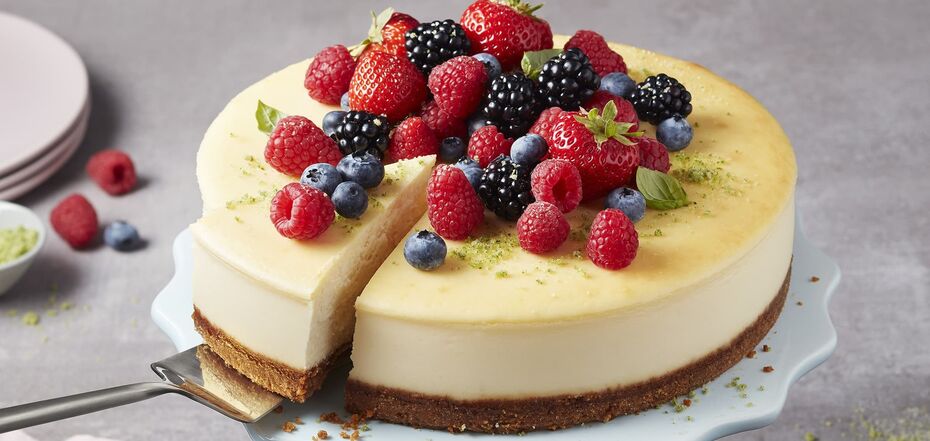 Delicious cheesecake with berries. Source: sunsetgrown.com.
Cheesecake is easier to prepare than many popular cakes. And this is exactly the kind of dessert in which you can experiment with different layers. It is very tasty if you add seon berries, as well as airy meringue and light sour lemon curd.
The idea of making berry cheesecake with lemon curd and meringue is published on the Instagram page of foodblogger Vita with the nickname v.vanilinka. The finished dessert looks really exquisite.
Ingredients for the meringue:
60 g egg whites
120 g sugar
1 tsp. lemon juice
Method of preparation:
1. Mix the egg whites with the sugar.
2. Put on a steam bath and heat with constant stirring until the sugar is completely dissolved (+-65 degrees).
3. Whip the mixture to a steady, glossy consistency. This may take 7 minutes or more depending on the power of the mixer.
4. Spoon the finished mixture onto a parchment-lined baking tray and dry in the oven at 85-90 degrees for 90 minutes. Drying time will depend on the size of the meringue. Check for doneness by breaking one meringue.
Ingredients for the sandy base:
110 g soft butter
190 g flour
45 g almond flour (you can substitute wheat flour, but almond flour is better)
45 g powdered sugar
45 g sugar
2 yolks
zest of 1 lemon
pinch of salt
50 g butter to form the base
Method of preparation:
1. Beat butter, sugar, and powdered sugar 3-4 minutes with mixer.
2. Add yolks and beat a little more.
3. Mix in flour, almond flour, zest and salt.
4. Add the flour mixture to the butter mixture and mix quickly until combined.
5. Wrap the dough in clingfilm and send it to the fridge for 2 hours.
6. Cold dough finely chop or grate and bake in an oven preheated to 180 degrees for 10-15 minutes.
7. Cool the finished cookie pieces and chop into crumbs.
8. Melt 50 g of butter, mix it with the crumbs. You should get a mass that holds its shape if you squeeze it.
9. Form the base of the cheesecake and place in the fridge for at least 15 minutes to set.
Ingredients for the berry layer:
200g berries (strawberries, raspberries, blueberries or mix) fresh or frozen
1 tbsp. sugar
1 tbsp. starch
Method of preparation of berry sauce:
1. Mix everything together.
2. Bring to the boil and simmer for 3 minutes. The mixture should thicken.
3. Set aside to cool. If desired, strain through a sieve to get rid of the pips and skins.
Ingredients for the curd layer:
600 g cream cheese
120 g sugar
2 eggs
berry sauce (previously prepared)
50 g cream
Method of preparation:
1. Mix cheese on low speed of mixer with sugar.
2. Add eggs one at a time, continuing to mix.
3. Then add the berry sauce and cream and mix finally.
4. Pour the curd mixture into the prepared cookie base and put in a preheated oven at 110-130 degrees for 1.5-2 hours.
5. At the bottom of the oven put a refractory container with water.
6. After the finished cheesecake cools down, it should be put in the refrigerator.
Also on OBOZREVATEL you can read the recipes: