Trending:
Simpler than pilaf: how to cook flaky rice with chicken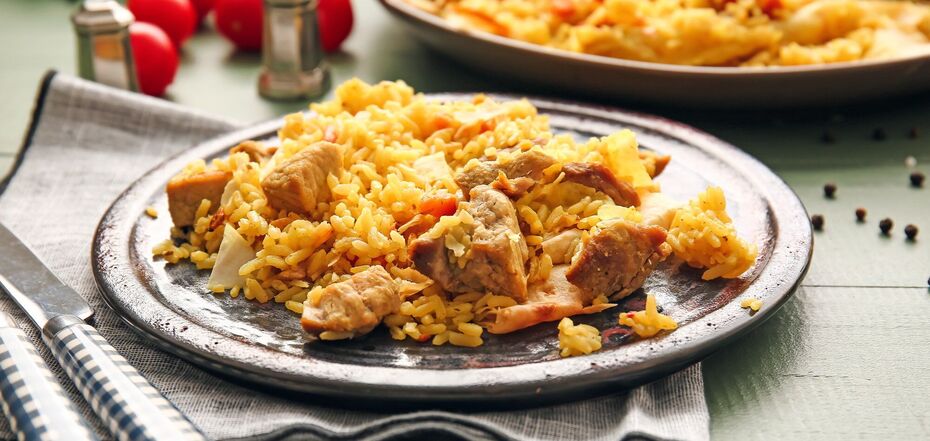 Rice with chicken. Source: depositphotos.com
Rice is a very satisfying, tasty, and versatile cereal that goes perfectly with any meat, vegetables, spices, and herbs. It can be cooked in a pot, frying pan, slow cooker, or even in the oven. The main thing is that the rice should be crumbly and not stick together.
One of the culinary blogs (zefirok_recipes) on Instagram published a recipe for crumbly rice with chicken in a frying pan.
Ingredients:
steamed long-grain rice - 1 tbsp
thigh fillet - 300 g
carrots - 2 pcs
onion - 2 pcs
garlic - 4-5 cloves
seasoning for pilaf
salt, pepper
water - 2.5 cups
Method of preparation:
1. First, cut the carrots into strips, onions into cubes. Fry the vegetables together until soft.
2. Meanwhile, cut the fillets and add them to the vegetables when they are tender. Cook until the meat turns white.
3. Rinse the rice several times, add to the meat, cover with water, add seasoning and garlic cloves. Cover and cook over low heat until tender and all the water has evaporated. It is important not to stir anything during the cooking process.
4. At this stage, you can remove the rice from the stove and sprinkle with herbs before serving. Enjoy!
You can also find more recipes on OBOZREVATEL: