Trending:
Simple strudel with cherries without kneading instead of pies and cakes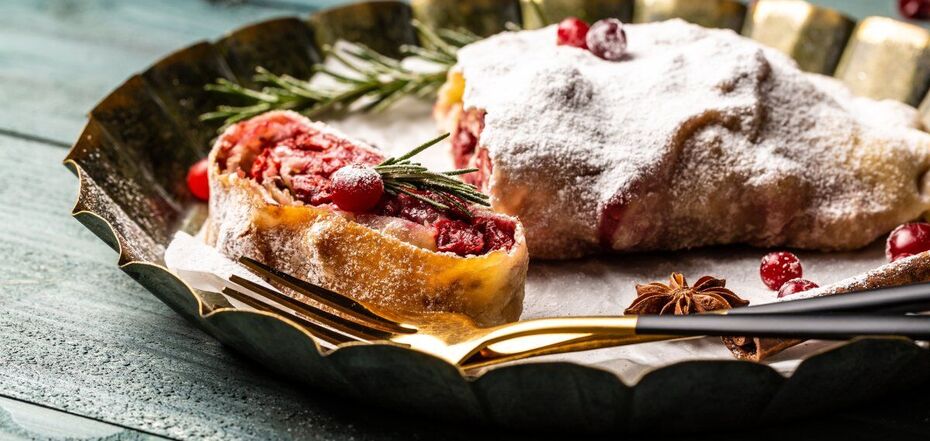 Strudel with cherries. Source: depositphotos.com
Strudel is a special kind of pie with a thin dough and a lot of juicy filling. It is made mostly with apples, cherries, cheese, poppy seeds, or blueberries. At the same time, it can be made from either yeast, puff pastry, phyllo dough, or pita bread.
Food blogger Anna Kiper ann_kiper shared a recipe for strudel with cherries from puff pastry on her Instagram page.
Ingredients:
puff pastry - 1 p
pitted cherries - 300 g
corn starch - 2 tbsp.
sugar - 4-5 tbsp
vanilla sugar
egg yolk for lubrication
powdered sugar for decoration
Method of preparation:
1. Prepare the filling. If you use frozen cherries, defrost them in advance. Then mix the berries with sugar and vanilla sugar, and put on low heat. Bring to a boil and cook for 5 minutes. Then remove from the heat and cool.
2. Roll out the dough into a rectangle and add filling. Wrap it in a roll and place it on a baking sheet.
3. Brush the roll with egg yolk. Bake at 180 degrees for 25 minutes. Cool and sprinkle with powdered sugar. Enjoy!
You can also find more recipes on OBOZREVATEL: