Trending:
Simple "Black Forest" cherry cake in a pan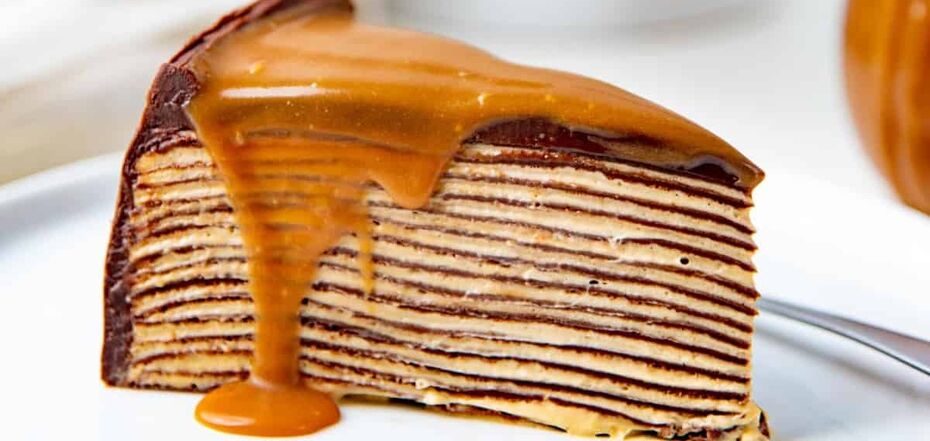 A cake that's cooked in a pan. Source: theflavorbender.com
Instead of baking a cake for a long time, you can make this dessert in a pan. You will get a great "Black Forest". It contains a juicy cherry filling and delicate cream.
The idea of cooking a cake in a frying pan is published on the page of food blogger Victoria with the nickname kelbas_v in Instagram. The dough bakes well and holds its shape.
Ingredients for the filling:
400 g seedless cherries
100 g sugar
Method of preparation of stuffing:
1. Mix cherries with sugar.
2. Put over medium heat.
3. Bring to a slow boil.
4. Simmer for 10 minutes.
5. Set aside to cool.
Cream Ingredients:
800 g sour cream
150 g powdered sugar
juice and zest of 1 lemon
2 sachets of thickener for sour cream/cream
Method of preparing the cream:
1. Cold sour cream, add powdered sugar and all parts of lemon.
2. Beat a little with a whisk.
3. Pour the thickener in.
4. Whisk for another 2 to 3 minutes.
5. Place in the refrigerator.
Ingredients for the scones:
3 eggs
250 g sugar + 10 g vanilla sugar
100 ml butter
250 ml milk
400 g flour
4-5 tbsp. cocoa
15-18 g baking powder
350 ml boiling water
Method of preparation:
1. For the dough, gradually mix all the ingredients in a bowl. At the very end, pour the boiling water and mix quickly until smooth.
2. Fry the crusts in a preheated dry frying pan over medium-high heat.
3. When it is completely dry (3-4 minutes), carefully flip it to the other side and fry for another 1 minute.
4. Trim the finished crusts to the round shape using a lid or plate.
5. For decoration, crumble the excess crusts in a blender or with your hands. If it tears, you didn't bake it well enough.
How to assemble the cake:
1. Place a spoonful of cream on the bottom of the plate.
2. Then place the shortcake.
3. Add the fiiling.
4. Then add cream.
5. Add cherries.
6. Add another crust.
7. Repeat until end of ingredients.
8. Do not put cherries on the penultimate crust so that the top of the cake is even.
9. Place final crust.
10. Sprinkle with decorations.
11. Put it in the refrigerator for 4-8 hours.
Also on OBOZREVATEL you can read the recipes: