Trending:
Seasonal hit: hearty pumpkin and cottage cheese casserole with a pattern for tea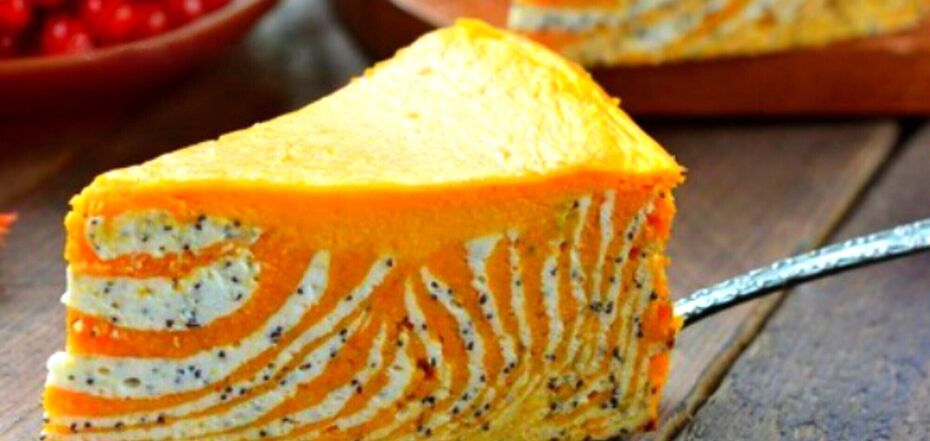 Pumpkin and cheese casserole with a pattern. Source: etsy.com
If you combine pumpkin and cottage cheese, you get a trendy and very healthy casserole. Besides, it looks very impressive because you can make a pattern with a toothpick. The texture is soft and tender.
The idea of cooking a seasonal pumpkin and cottage cheese casserole was published on the Instagram page of food blogger Natalia Zhuk (nataliia_zhuk_cooking). The pastry is ideal for family tea parties.
Ingredients for the cheese layer:
cottage cheese (not dry) - 400 g
eggs - 2 pcs.)
sugar - 60-80 g
vanilla sugar - 1 tsp.
yogurt or kefir - 100 g
flour - 3-4 tbsp with a slide
Ingredients for the pumpkin layer:
pumpkin - 500 g
egg - 2 pcs.
sugar - 60-80 g
lemon or orange zest
flour - 3-4 tbsp.
Method of preparation:
1. Chop pumpkin and bake at 200 degrees until tender. You can also boil it.
2. Beat 2 eggs with cottage cheese and add sugar and vanilla sugar.
3. Add 100 grams of kefir and 3 or 4 tablespoons of flour.
4. Beat all this thoroughly with a blender. If the consistency is thick, add a little milk, and if it is liquid, add flour. It all depends on the moisture content of your cottage cheese.
5. Peel the pumpkin and let it cool slightly.
6. Add 2 eggs, 80 g of sugar, and lemon zest to the pumpkin.
7. Add 4 tablespoons of flour. Beat everything with a blender.
8. Cover the baking dish with parchment and spread the cottage cheese and pumpkin dough in a chaotic manner. Then use a toothpick to make a pattern.
9. Bake at 190 degrees for 40-45 minutes.
10. Remove from the oven and let it cool.
You can also find recipes on OBOZREVATEL: