Trending:
Sauté seasonal vegetables for winter: tastier than any salad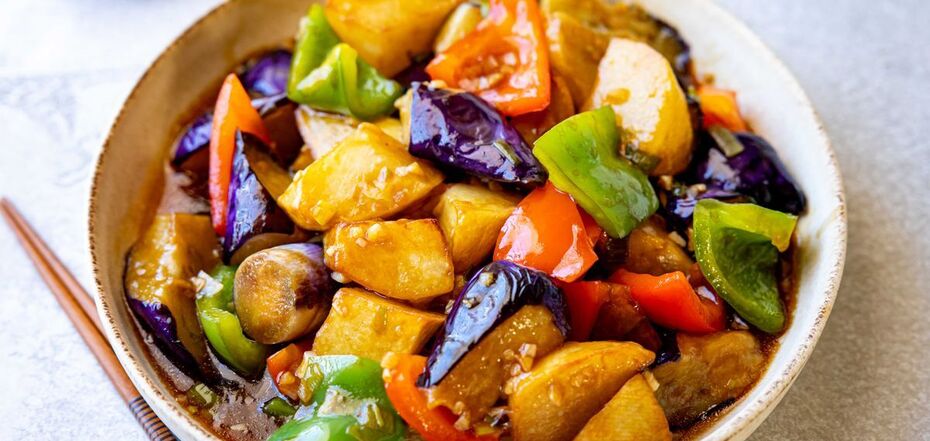 Delicious sautéed vegetables for the winter. Source: food52.com
Sauté should be canned now, because there are many delicious fresh vegetables. The appetizer turns out to be very light and, at the same time, savory. It is prepared much easier than any traditional salads for the winter.
The idea of cooking vegetable sauté for winter is published on the Instagram page of food blogger Yana with the nickname whitegarden_land. It comes out very tasty if you add a lot of herbs.
Ingredients:
eggplants - 3 kg
tomatoes - 2 kg
bell pepper - 1 kg
carrots - 1 kg
onion - 500 g
garlic - 3 heads
spices: black pepper, paprika, salt, sugar
vinegar - 3 tbsp.
Method of preparation:
1. Cut eggplant and tomatoes into large cubes.
2. Dice the carrots as desired, either into cubes or rings.
3. Finely dice peppers.
4. Onion in half rings, garlic cut into small pieces.
5. You can add chopped fresh or dried cilantro.
6. First fry the eggplants in a skillet over high heat with enough sunflower oil.
7. Add the tomatoes to the eggplants.
8. In a separate pan fry the carrots and onions. Then mix with eggplants and tomatoes, add garlic, black pepper, paprika, salt, sugar. All to taste.
9. All stew for about 20-30 minutes, at the end add 3 tablespoons of vinegar and close in sterilized jars.
Also on OBOZREVATEL you can familiarize yourself with the recipes: