Trending:
Recipe for thick apple jelly that is tastier tham jam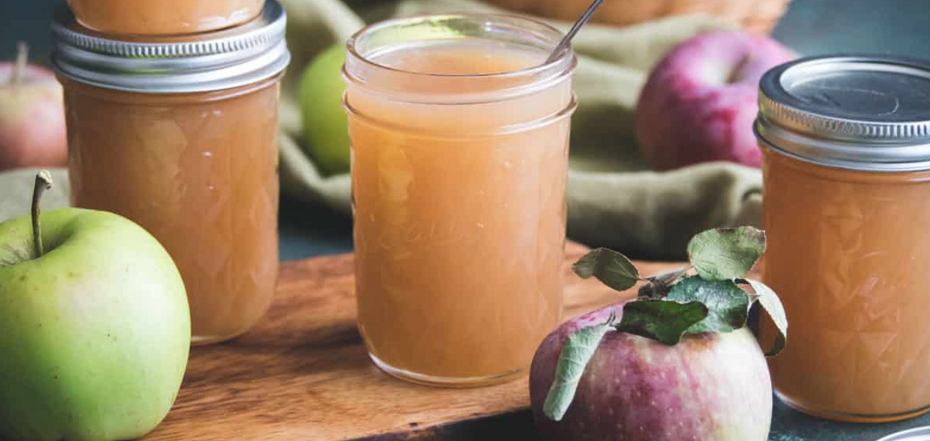 Apple jelly for the winter. Source: growforagecookferment.com
Apple jelly is a delicious winter preserve that kids will love. It tastes better than classic jam. This jelly freezes perfectly and is well stored.
One of the culinary blogs (domashnia388) published a recipe for thick apple jelly for the winter on Instagram.
Ingredients:
apples - 2.5 kg
blackberries - 240 g
water - 2 liters
For 1 liter of juice:
sugar - 700-800 g
citric acid - 1 tsp \ lemon juice - 50 ml
Method of preparation:
1. Wash the apples and cut them into slices. Put them in a bowl or saucepan.
2. Add washed blackberries to the apples. If you need to give the jelly a beautiful color, you can also add raspberries. Put the container on the stove, add water and cook over low heat for 40-50 minutes.
3. Strain the cooked mass through a sieve. You should have clear juice. Pour it into a saucepan.
4. Gradually add sugar to the resulting juice, stirring constantly to dissolve it well. Bring the mixture to a boil.
5. Add acid or juice and cook for 40 minutes. The foam that will form must be removed.
6. You can remove the pan from the heat, pour it into clean jars and roll up the lids. And you're done!
Earlier, OBOZREVATEL shared how to make currant jelly.